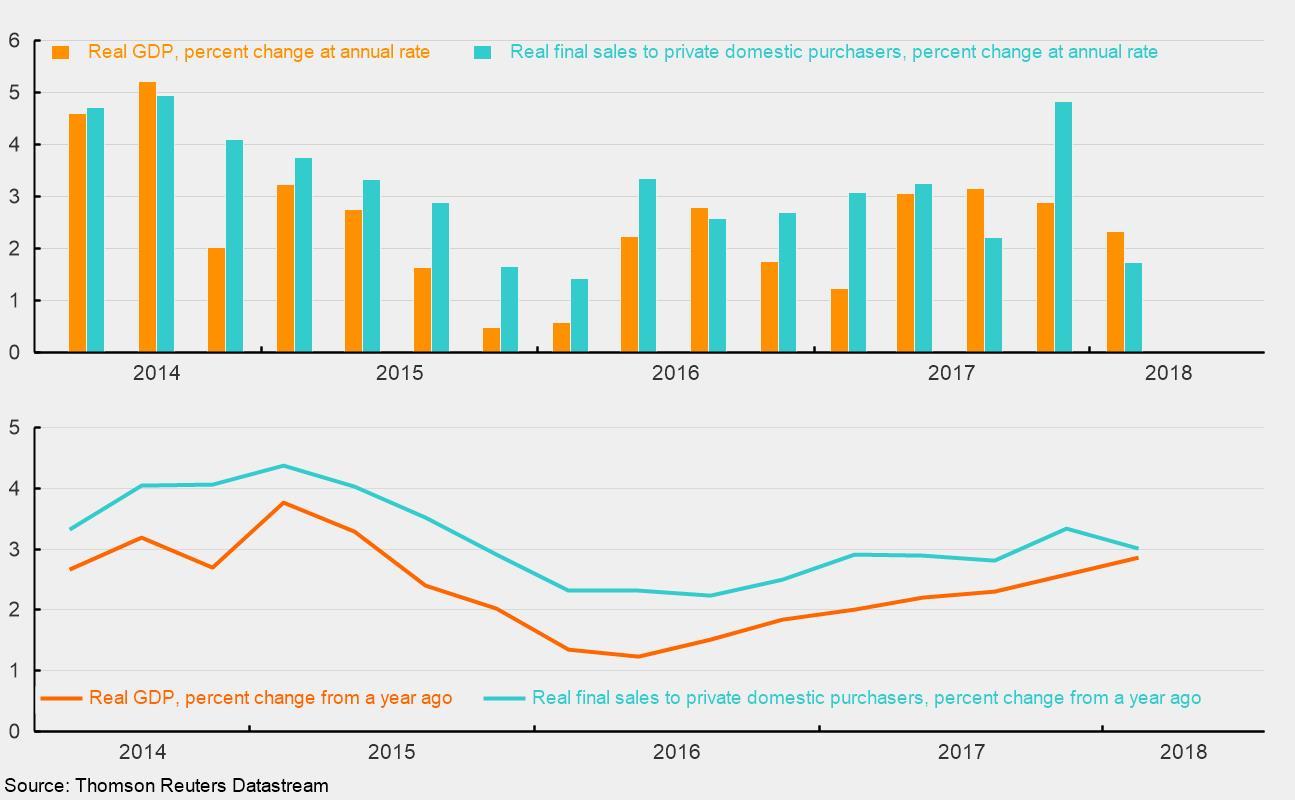 By Robert Hughes
Real gross domestic product rose at an annualized rate of 2.3 percent in the first quarter, compared with a 2.9 percent increase in the fourth quarter of 2017, according to the Bureau of Economic Analysis. Despite slower first-quarter earnings, growth in the past four quarters increased by 2.9 percent. This is the fastest quarterly profit since the second quarter of 2015 (see chart). The accumulation of inventories and slower import growth (imports burden GDP in national accounts) helped offset growth rates in most other areas.
Private consumption slowed significantly in the first quarter, rising 1.1 percent year-on-year to a 4.0 percent growth rate in the fourth quarter. The slowdown was mainly driven by a decline in goods spending, with durable goods growth dropping from 13.7 percent in the fourth quarter to a drop of 3.3 percent in the first quarter. Consumer spending rose 0.1%, from 4.8% in the previous quarter. Spending on services slowed slightly from 2.3 percent to 2.1 percent.
Business investment increased by an annualized 6.1 percent in the first quarter of 2018. This increase was driven by an increase in construction spending of 12.3 percent in equipment investment, up 4.7 percent, and investment in intellectual property rising 3.6 percent. Business investment increased 6.8 percent in the fourth quarter.
Residential investment or residential real estate remained stable in the first quarter, up from 12.8 percent in the previous quarter. Overall, investment in companies and residential real estate contributed 0.76 percentage points to GDP growth, compared to a contribution of 1.31 percentage points in the fourth quarter. Company accumulation increased first-quarter growth by 0.43 percentage points, after deducting 0.53 percentage points in the previous quarter.
Net exports had a positive impact on GDP growth in the fourth quarter, increasing growth by 0.20 percentage points. Exports rose at a relatively robust pace of 4.8 percent, while imports rose much more sharply at 2.6 percent than in the previous quarter (14.1 percent).
Government spending increased 1.2 percent from a year ago in the first quarter Growth was 3.0 percent in the fourth quarter, up 0.20 percentage points from a year ago, compared to 0.51 points in the final quarter of last year.
Real retail sales to private domestic sellers, an important indicator of private domestic demand, rose only moderately In the first quarter, the annualized rate was 1.7 percent, compared to 4.8 percent in the fourth quarter (see chart). First quarter earnings were the lowest since the first quarter of 2016. Real private domestic demand has still risen slightly at 3.0 percent in the last four quarters, but slightly below the 3.3 percent increase for the four quarters of 2017, but The increase of 2.2 percent for the four quarters ending in the third quarter of 2016 is significantly higher.
The underlying trend of real private domestic demand will continue to be job creation, rising wages, healthy corporate and consumer balance sheets, solid corporate sales and corporate earnings growth, and high levels of business and consumer confidence. The positive cycle between consumer and corporate sectors should continue to support continued growth in real private domestic demand, suggesting continued economic expansion in the coming months and quarters. The positive outlook is supported by the results of the AIER Leading Indicators Index, which achieved a perfect score of 100 points in March.