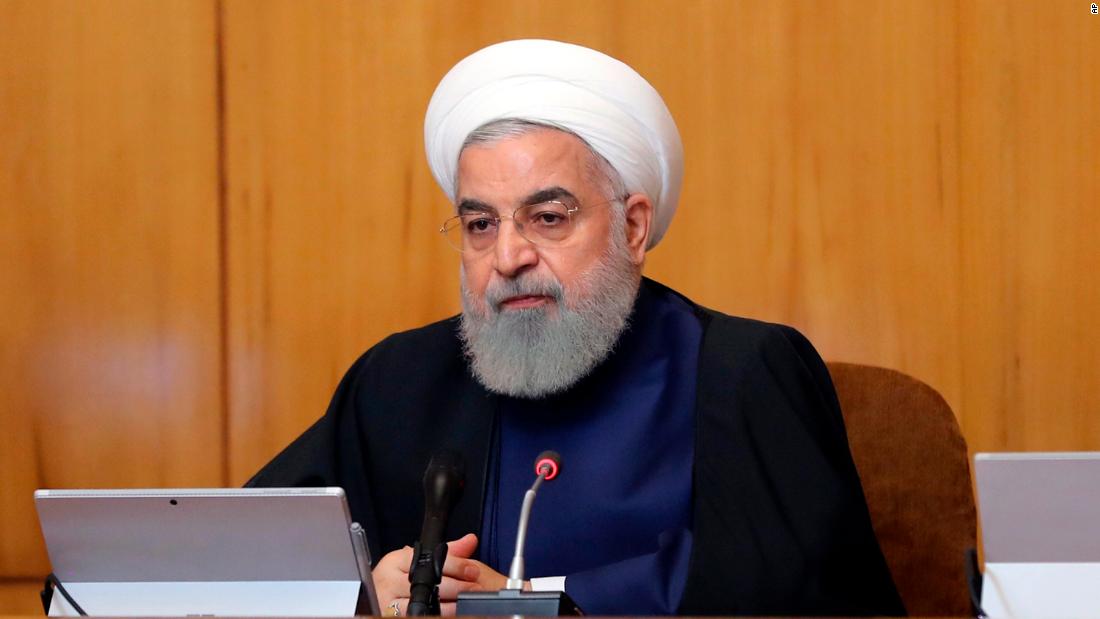 Trump is "crazy" and his administration is "confused," Iranian Foreign Minister Hossein Amir-Abdollahian said on Monday in an exclusive interview with CNN. Hossein pointed to the US Fuehrer's continued campaign to strangle the Iranian economy on the one hand and to his request that Iran, on the other hand, talk about it.
"In his eyes, Trump believes he has sanctions against Iran and tries to close our economy," said Amir-Abdollahian to Fred Pleitgen of CNN. Now that he wants us to call him, this is a crazy president! "
"There are a lot of conflicting opinions in the White House," Amir-Abdollahian continued, pointing to "warmongers" in the West Wing calling the National Security Advisor John Bolton. "Besides, Trump's decision-making is not fully balanced and stable, so we're dealing with a confused White House, and Iran is receiving various signals that show nobody knows who owns the White House."
As further evidence, Amir-Abdollahian added that "Trump's tweets contradict themselves."
Just hours after the Iranian official made this observation to Pleitgen, Trump tried to double the mixed messages by denying the US Talk to Tehran at all. The day before yesterday they threatened to threaten Twitter with a threat that a fight with the US would be "the official end of Iran".
"Fake News Made a Typical False Statement Without the United States Knowing What They Wanted This is a false report," Trump tweeted Monday. "Iran will call us when and when they are ever ready, and in the meantime their economy is collapsing ̵
1; very sad for the Iranian people!"
But there are several signs – not least from the president himself – that the US has actually tried to start a dialogue with Tehran.
Trump's Monday tweet followed his statement of 9 May that Tehran should "call me" and his remark of May 16 that he not only hoped that the two countries would not go to war, but that he was sure. "Iran will want to talk soon."
On the same day, Trump welcomed the President of the Swiss Confederation, Ueli Maurer, in the White House for a short notice announced visit. Their talks aimed to set up a channel that the President can talk to Iran about, a person familiar with the ongoing White House discussions.
White House officials later said that the topic had not been extensively discussed. But the Swiss represent US interests in Iran and CNN reported in early May that the White House had given them a phone number they could share with Iranian leaders if they wanted to discuss with Trump the recent surge in tensions.
In recent weeks, Washington has ended the liberation of Iranian oil imports, announced sanctions against Iran's non-proliferation associated with the 2015 nuclear deal, and sent a naval strike group and a bomber into the Persian Gulf as US officials leaked reports, according to which a heightened threat from Iran.
Increased uranium enrichment
In response, Iran announced it would stop full compliance with the nuclear agreement. On Monday, an Iranian energy official announced that the country had quadrupled its uranium enrichment and informed the International Atomic Energy Agency. US Secretary of State Mike Pompeo, Acting Secretary of Defense Patrick Shanahan and Joint Chiefs of Staff General Joseph Dunford are to inform US Senators about the situation in Iran on Tuesday, as a Senate official said. As another attempt to build a return channel to Iran, Pompeo spoke with Sultan Qaboos bin Said from Oman on May 15, who maintains close ties with Tehran and Washington and has acted as an intermediary in the past.
Omani Foreign Minister Yusuf bin Alawi bin Abdullah arrived in Tehran on Monday to discuss key regional and international issues, the State News Agency of the Islamic Republic of Iran, IRNA and Oman News Agency said. He met with his Iranian counterpart, Iranian Foreign Minister Javad Zarif.
Following the Trump government's decision on April 22 to end Iran's refusal to import oil, Oman's ambassador to Washington publicly stated that her country was ready to mediate between Iran and the US Both sides consider such support helpful.
In the meantime, Trump seems to send conflicting signals. He tweeted on Friday that "Iran, with all the false and fictional news, can not have a clue what's actually going on!"
This message was quickly rejected by the Iranian Foreign Minister, who called a circle of Trump advisers and allies "B-Team", Bolton, Israeli Prime Minister Benjamin Netanyahu, and the Crown Prince of Saudi Arabia and the United States Arab Emirates – and claimed they were trying to force Washington into a war with Tehran.
"As the #B_Team does one thing and @realDonaldTrump says another, apparently the US does not know what to think," Zarif tweeted on Friday.
Regarding the US-backed coup that overthrew the democratically elected Iranian government in favor of a Shah who was more friendly to US and British oil interests, Zarif said, "We in Iran have actually known what we have been doing for millennia and the US since 1953. At this point, that's for sure "a good thing!" [19455912]
"Try respect"
Amir-Abdollahian signaled on Monday that Iran is not quite talking is, it's just a matter of how.
"Trump can discuss the conversation with Iran over a telephone if he does not use the language of the threat and violence," the parliamentarian told Pleitgen talking about calling us when he returns to the nuclear deal. "
Amir-Abdollahian said Trump had" no idea of ​​the culture and mentality of the Iranian people "when he believes that threats against the Ir to act on.
"Forty years of Islamic revolution in Iran have shown that you can not talk threats to Iran … If he thinks by bringing some aircraft carriers and bombers, he can exploit Iran and force Iran to negotiate lead unequal position, he is wrong, "said Amir-Abdollahian. "But when their ships approach us, this is a threat to them, we do not welcome a war, but we stand firm."
Zarif offered a shorter version
on Twitter Monday
and said, "Never threaten." an Iranian. Try respect; it works.
Fred Pleitgen, Kevin Liptak, Hamdi Alkhshali, Alla Eshchenko, Shirzad Bozorgmore, Ted Barrett, Ashley Killough and Kylie Atwood of CNN contributed to this report