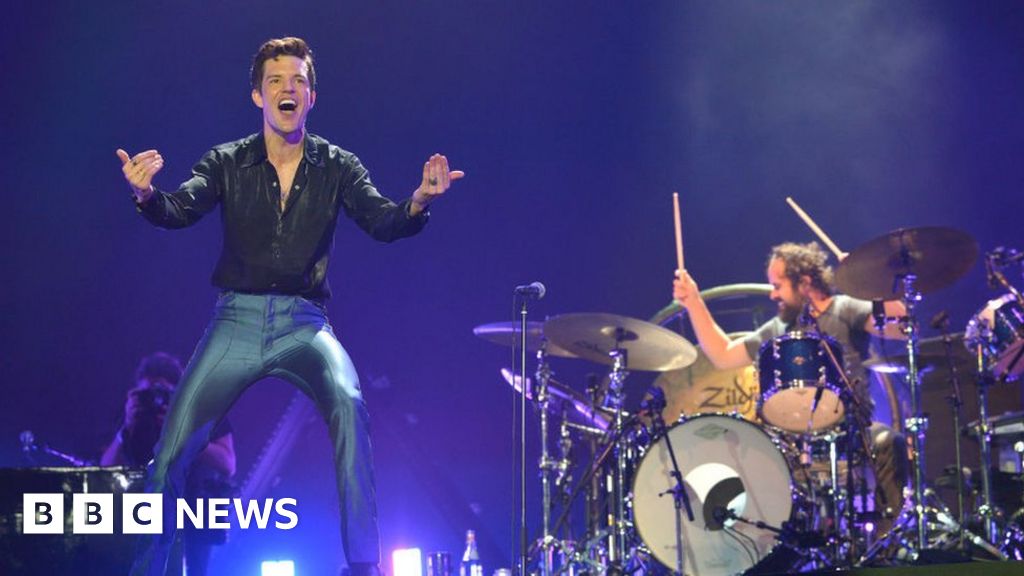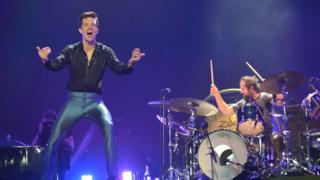 The Killers marked their second Glastonbury headline slot by bringing Pet Shop Boys, Johnny Marr and Jimmy Carr out for a solemn encore.
The Pet Shop Boys played their cover of Elvis with the Killers ̵
1; Always On My Mind
Then Johnny Marr came to a version of This Charming Man – 35 years after The Smiths' only Glastonbury show ,
The familiar Jangly riff of the song drew huge cheers from the crowd – by far the biggest pyramid stage this year.
"You say you never meet your heroes," frontman Brandon Flowers said, "but I say that was fine."
The Killers had already played a triumphant, two-hour set before the encore, opening with a powerful double strike from Jenny Was A Friend of Mine and Somebody Told Me from their debut album Hot Fuss.
Flowers, as usual, was a restless frontman – he sat on the monitors and darted between his keyboard and the microphone stand, causing the audience to go mad.
The set was populated with singalongs, from the loud pop of Spaceman to the brawny Springsteen isms of when You Were Young.
Flowers also dedicated an emotional version of A Dustland Fairytale to his mother Jean, who died of cancer in 2010 at the age of 64.
"We wrote this next song a million miles from here," he told the audience. "We're far away from home tonight, but you know home is not always a place home is a person When I look back on my childhood, my mother was home, and her light went out too early. "
He continued, "There is no grave deep enough, and there is no grave dark enough to keep its light from my life."
Shortly before the encore, comedian Jimmy Carr appeared on stage, posing as a roadie, sweeping confetti and testing the microphones for no apparent reason, unless it seemed fun.
The set ended with a triumphant version of Mr Brightside (it had been announced on Twitter an hour earlier when fans demanded the band's signature song), which in 2007 released the ghosts of The Killers' first Glastonbury Headlineslot silenced.
This performance was clouded by sound problems that "put the experience in the shade," said Flowers NME earlier this week.
Liam Gallagher, who had summoned his set of material from his debut solo album As, headed the killers on the pyramid stage You Were.
Predictably, this was not as good as the Oasis material he had picked up for the end of his set. Columbia and Wonderwall sounded particularly fresh and vital and moving, but too short. Version of Champagne Supernova dedicated to Prodigy is frontman Keith Flint, who died earlier this year.
Liam also dedicated Slide Away to a woman named Lauren – but who is she?
Gallagher's voice is not the force it once was, and its continued mocking of The older brother Noel – whom he calls "a bit fart" – is just boring.
At one point, he thanks Michael and Emily Eavis for "allowing me to continue my Glasto residence," and despite all his mistakes, this is unlikely The last thing we'll see of him.
However, Glastonbury is nothing more than a broad church, and Saturday's cast was particularly eclectic, with The Proclaimers, Carrie Underwood, and Janet Jackson alone on the main stage.
Jackson, who made her debut in Glastonbury, was accused of some television viewers imitating it – but while she was undoubtedly relying on backing music to enhance her vocals, most of her set seemed to be playing live, at least by the audience. Elsewhere, the hip-hop pioneers Wu-Tang Clan were rousing on the West Holts stage as they celebrated the 25th anniversary of their seminal album 36 Chambers.
Elsewhere.
The Chemical Brothers cited the bill on the other stage for the fifth time – and dipped the audience in color with a typically ambitious light show.
Elsewhere, Foals played an intense, brand-new secret show on the Park Stage, while Popstar Sigrid's set was memorable, especially for the young girl in the front row who was so thrilled that she spent the whole set in tears. [19659007] Scottish troubadour Lewis Capaldi was also a bit tearful – he wiped away a tear after 60,000 people sang his hit Someone You Loved back to him.
"It was the first time I became a bit emotional on stage," he told the BBC later. "But I did not expect to see so many people and people on the shoulders of the other, all the way back.
" It was just crazy, man. So, so weird. "
Capaldi also used his set to make fun of Noel Gallagher and played a video of the star in which he asked aloud," Who is this Capaldi character? "
While the clip is on a loop Capaldi went on stage in an oversized trench coat, which he took off to expose a T-shirt with a huge image of Noel's face.
Prior to the festival, Capaldi told its 2.7 million Instagram followers that it meant "being towed" by Noel "peaked".
Glastonbury begins his final day on Sunday with sets by Kylie Minogue, Miley Cyrus, Christine + The Queens and headlines The Cure.
You can follow the action on BBC TV and Radio, the BBC Glastonbury website and the Internet Glastonbury Radio.
Follow us on Facebook on Twitter @BBCNewsEnts or on Instagram at bbcnewsents . If you have a suggestion for a story, send an e-mail to entertainment.news@bbc.co.uk .