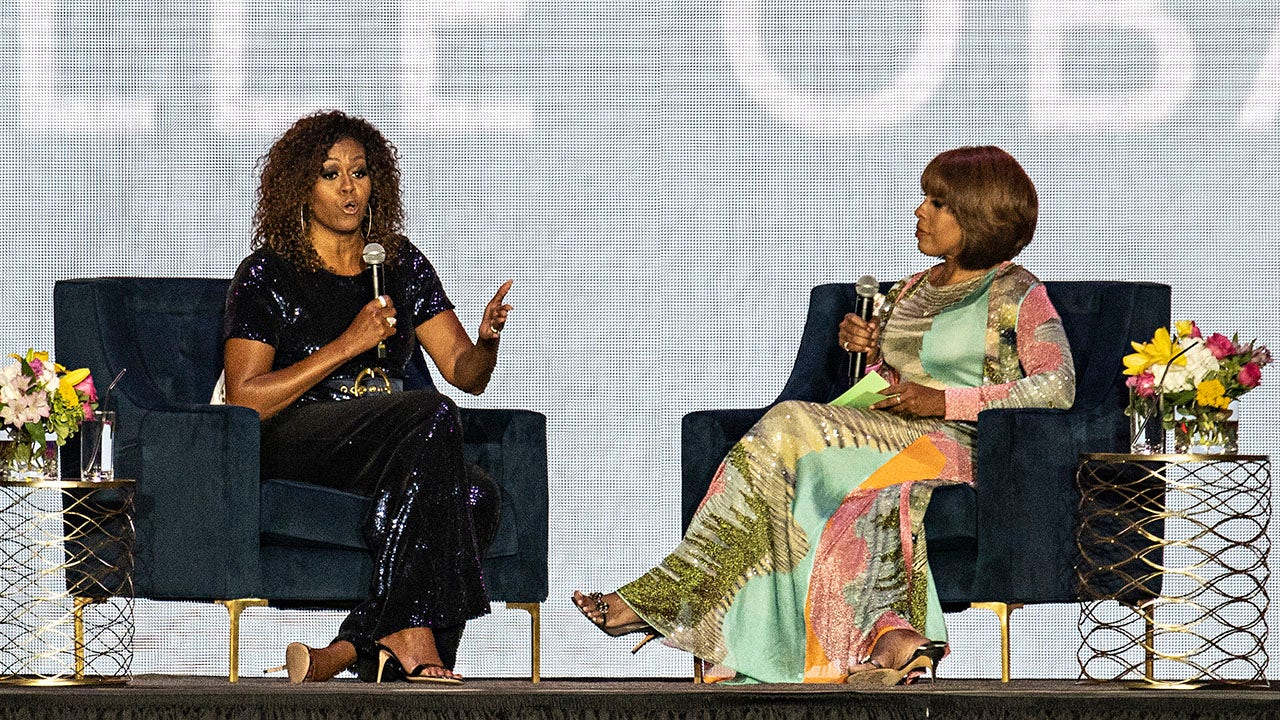 Michelle Obama said in an interview on Saturday night that the night before President Trump's inauguration in January 2017 was "very emotional."
"The truth is that this day I've moved my kids out of the only house they really had grown up in," former First Lady told Gayle King of CBS News at the Essence Festival in New Orleans. I think that is lost to people.
She said she was in a hurry to get her daughters and her friends out of the White House after spending the night before the inauguration.
"The girls did not get up," she explained Everyone and they have their teddy bears and they move slowly and I say, 'You have to get up and leave this house.' And I do not know where those kids are going, but they had to get up and leave the house, so you have Tears and I shove people out of a goods lift and my children cry. "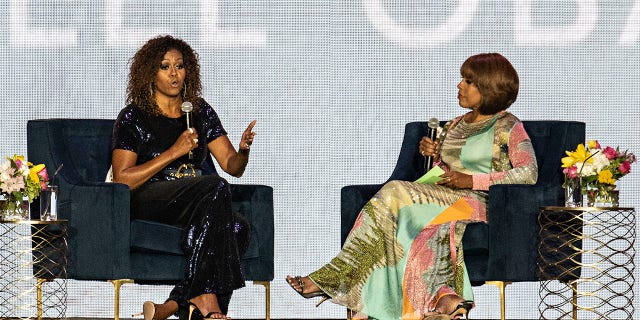 BEYONCÉ PUNISHES MICHELLE OBAMA FOR THE 100 MOST INFLUENCING PEOPLE OF THE TIME
She said she and former President Barack Obama would have to meet with the Trumps.
"I did not want to go out and greet them with tears in my eyes because people would think I was crying for other reasons.
The former First Lady said after eight years of observation that her husband "is raked over the coals" and the feeling that they need to be perfect. " It was very emotional that it was a liberation when I got on this plane.
She also spoke personally about marriage and motherhood, saying children could "absorb anything in the country. "
THE YOUNGEST DAUGHTER OF FORMER PRESIDENT BARACK OBAMA, SASHA, INVOLVED PROM
.
She told King that the most important thing in a marriage for spouses has to be the same.
"My husband is my teammate and if we want to win this game together, he has to be strong and he has to be strong," she said.
Mrs. Obama was also present in the elections in 2020 and told King that she and her husband support all Democratic candidates and plan to support those who win the primary election because the general election is "so important."
She seemed to criticize Trump without using his name.
"The leader of the free world with a tweet can start a war, smash an economy, change the future of our children," she said, adding that the next president must have "profound sincerity and concentration." and work "with a clear basis of facts and ideas."
"The leader of the free world with a tweet can start a war, smash an economy, change the future of our children."

– Michelle Obama
She said she thinks her husband sometimes made the presidency easy.
"I think it's like the black guy can do it, everybody can – and that's not true. It's a tough job. "
Obama said people forget how many strokes they made to win the title The White House and that for a while she was portrayed as" a mad black woman depriving her husband ". Both Democrats and Republicans were afraid of "the strength of a black woman," she said.
CLICK HERE TO GET THE FOX NEWS APP
She added that she knew when she became the first lady she "deserve mercy".
"I want all the young girls out there to know – we all have to deal with it, people in color, workers, people of color – people try to define us negatively before we get the opportunity to get out there and our own stories to tell, "she said.
Five of the presidential candidates – Kamala Harris, Pete Buttigieg, Beto O'Rourke, Cory Booker and Elizabeth Warren – also spoke at the festival earlier in the day.
Source link