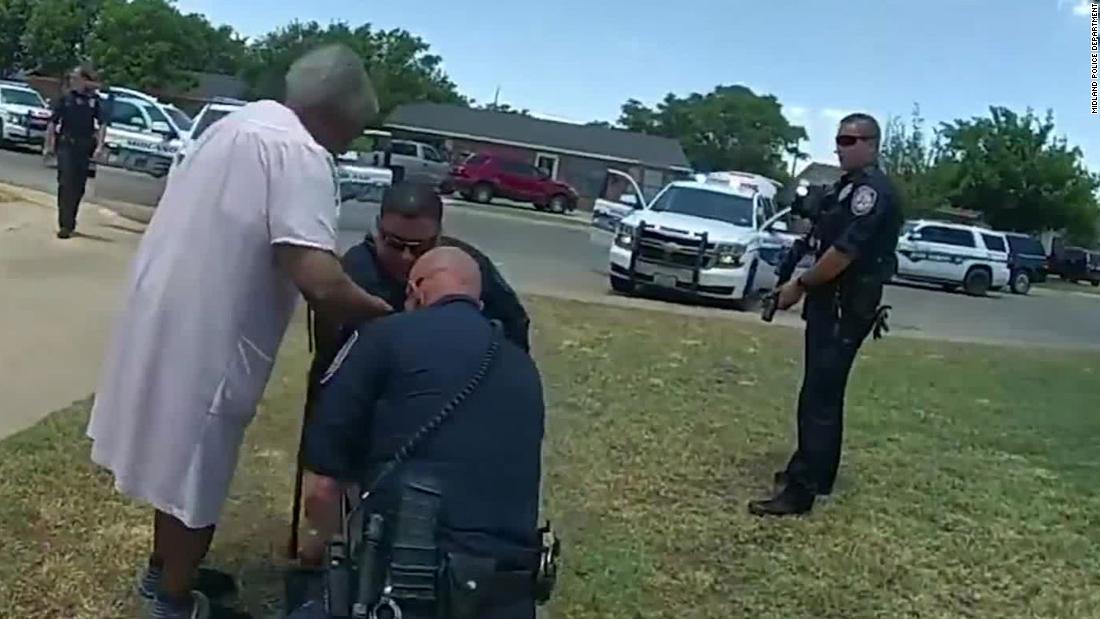 Midland police officers stopped Tye Anders, 21, on May 16 because they had posted a stop sign, the division said in a statement.
What happened next left a family shaken, a young man on the ground and his grandmother, who tried to intervene in the tense confrontation that followed.
Anders, who is black, had driven in a manner that raised suspicion and "made several extreme attempts to escape and avoid me," wrote a Midland police officer in an affidavit, issued by CNN subsidiary KWES and other media had been preserved. CNN has applied for public records for the affidavit.
The Midland Police Department released footage on Facebook on May 22, six days after the incident, of an official dash cam video and a 36-minute bodycam video. The video does not show the alleged traffic violation. The police say it "occurred before the video system was activated"
;.
In the dashcam video, officials say Anders drove two blocks after the cruiser's lights were on. Then you see Anders entering his grandmother's driveway.
Another was accused of dodging a car while the police tried to arrest him, Midland police said.
Justin Moore, a lawyer at Anders, says his client has been racially profiled and there is no justification for his arrest.
Anders' grandmother tried to defuse the situation
Midland police released four versions of the Bodycam video on the department's Facebook page: full-length footage of the front camera, full-length footage of the body camera, full-length footage of the back seat, and a shortened video with captions.
After Anders drives into his grandmother's driveway, the police can be seen and heard on a bodycam video asking Anders to get out of his car, which he initially refused. According to a time-stamped bodycam video by the police, he stayed in the car for more than five minutes before getting out.
When Anders left the vehicle, a video shows an officer drawing his gun and pointing it at him.
"I don't blame the officers for having drawn their guns," said James A. Gagliano, CNN law enforcement analyst. "When he (Anders) was not compliant, they (the police) suspected there was something more because he ran away from a stop sign ticket. This is not normal behavior."
The police said they asked Anders to go up to her to be detained, but Anders refused and can be heard in a body cam video asking, "Why did you stop me?" with hands in the air.
Moments later, Anders can be seen on a bodycam video that falls to its knees to lie down on the lawn in front of the house.
"We won't shoot you," an officer says to Anders.
The incident occurred over a week before George Floyd's death in Minneapolis after being detained by the police during his arrest. The video shows Floyd asking to be in pain and unable to breathe. Then his eyes closed and the requests stopped. Shortly afterwards he was declared dead.
Gagliano called Anders' arrest the "exact antithesis" of the Floyd case.
"This was a case where police officers not only did their job," he said of Anders' arrest, "but went beyond being patient and letting it play when this young man put his hands on his waist and refused to meet. "
In the police video and a viewer video that Anders' lawyer provided to CNN, Anders keeps shouting, "I'm scared, I'm scared, I'm scared" and "Put your guns down". While lying down on his stomach in the front yard parallel to the driveway, he stops his car.
As the confrontation between Anders and the police continues, spectators can gather and yell at Anders and the police.
"Hey man, just get up, get up, man," you hear an officer say to Anders. "All you have to do is get up."
At some point, Anders '90-year-old grandmother appears in a police bodycam video to defuse the situation. Officers approached the older woman and moments later she seemed to be falling over her grandson.
The footage does not show how the woman fell. Midland police say they "seemed to be off balance and falling".
Moore claims she was "forced to the ground by overly aggressive Midland PD officers."
At least five police cruisers and five other officers can be seen in the police Bodycam video.
In the affidavit, the official writes about the request for assistance when Anders refused to get out of his car. The official called for "additional units to assist" when "Anders family members now started driving to the scene and leaving the residence."
Claims of racial profiling
In the viewer video, a woman nearby shouts at the officials: "He is afraid. They have guns on him." And later: "We are black. You shoot black people."
Moore claims the police stopped Anders without reason.
"Racial profiles and pretext stops have been pandemic-level in this country for generations," Moore said in a statement. "This incident falls into the age-old trend of following black men and arresting them for fictitious reasons."
After helping the older woman get up, officials arrested Anders. After being handcuffed and in the back of a patrol car, Moore claims that Anders was "slapped in the face" several times.
A body cam video from the police shows and hears officers asking Anders to put his legs in the car while explaining why he was run over. Anders kicked his legs out of the door and shouted several times: "I didn't run a stop sign."
The police say that a sergeant grabbed Anders around the head to "lay him flat and control his movements" and "used physical strength to pull his (Anders') body back into the vehicle. There were no strikes thrown. "
CNN's Konstantin Toropin and Jennifer Henderson contributed to this report.
Source link