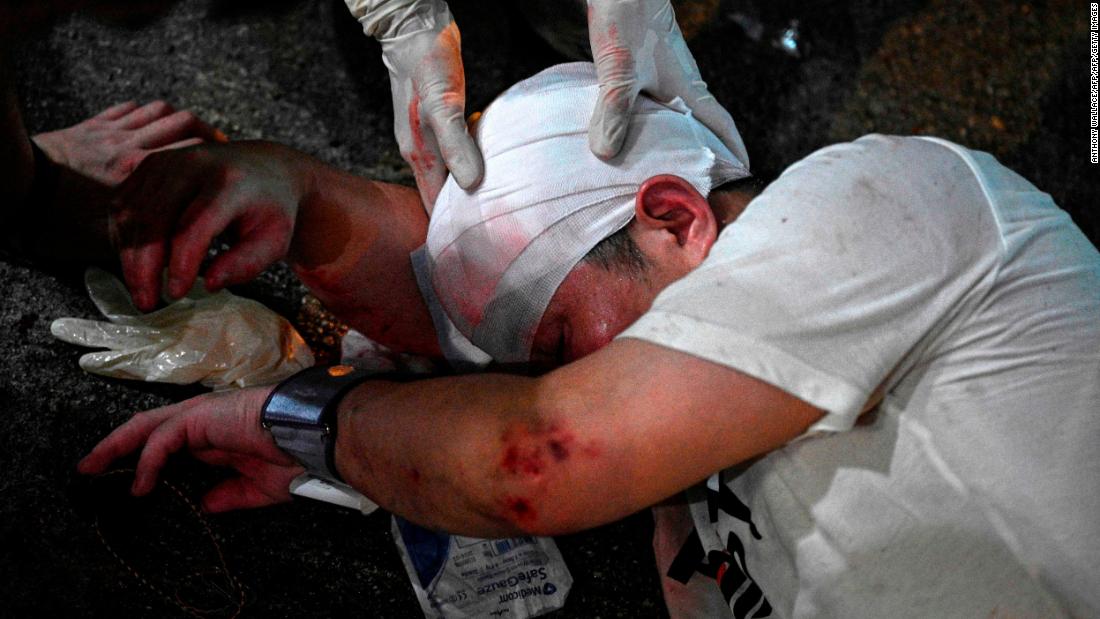 Thousands of people took part in a peaceful, albeit unauthorized, march from Causeway Bay to Admiralty government offices, and called on the government to respond to the protest movement's five demands. This quickly became violent after radical demonstrators gathered in front of the legislature and began throwing bricks and gasoline bombs at police lines.
The police responded with tear gas and water cannons and used blues with blue dye for the second time. The dye, which is also mixed with tear gas, should mark demonstrators permanently and later have them held lightly.
The violent reaction drove the demonstrators back from the legislature and ushered in a night of cat-and-mouse persecution in the city, where protesters set fire to and destroyed subway stations as the police sporadically arrested them.
According to the hospital authority, at least 28 people were injured on Sunday. Of these, 1
3 men and four women were released Monday morning, while 11 remain in the hospital. Two men are in a "serious condition," the agency said.
While violence between police and protesters was fairly regular compared to the past few weeks, the ugliest scenes occurred on the edges of the protests, in which both demonstrators and pro-government groups attacked people who disagreed with you.
CNN reporters saw a lot of masked demonstrators who after a brief confrontation attacked a man in the Tin Hau neighborhood, leaving him dizzy and bleeding on the floor. An earlier incident
featured a video
disseminated on the Internet in which a middle-aged man in a blue shirt was attacked and left unconscious by a large group of predominantly young, black-clad demonstrators on Gloucester Road. According to the South China Morning Post, the unidentified man had called police slogans before the attack.
Later on Sunday, a group of mostly middle-aged men in Hong Kong were observed in strikes and threats against protesters at the North Point area. The area has a large mainland immigrant population and in recent weeks there have been attacks on protesters in the area.
The violence on Sunday occurred after a series of angry clashes on Saturday between anti-government and anti-government groups. Pro-Beijing groups sang the Chinese national anthem and tore off "Lennon Walls," a collection of notes and leaflets set up by demonstrators throughout the city.
On Friday, pro-government lawmaker Junius Ho called on patriotic Hong Kong citizens to "get together and clean Hong Kong." Ho previously praised alleged Triads attacking demonstrators in Yuen Long and seemed threatened to kill one of his colleagues after arguing in a radio broadcast.