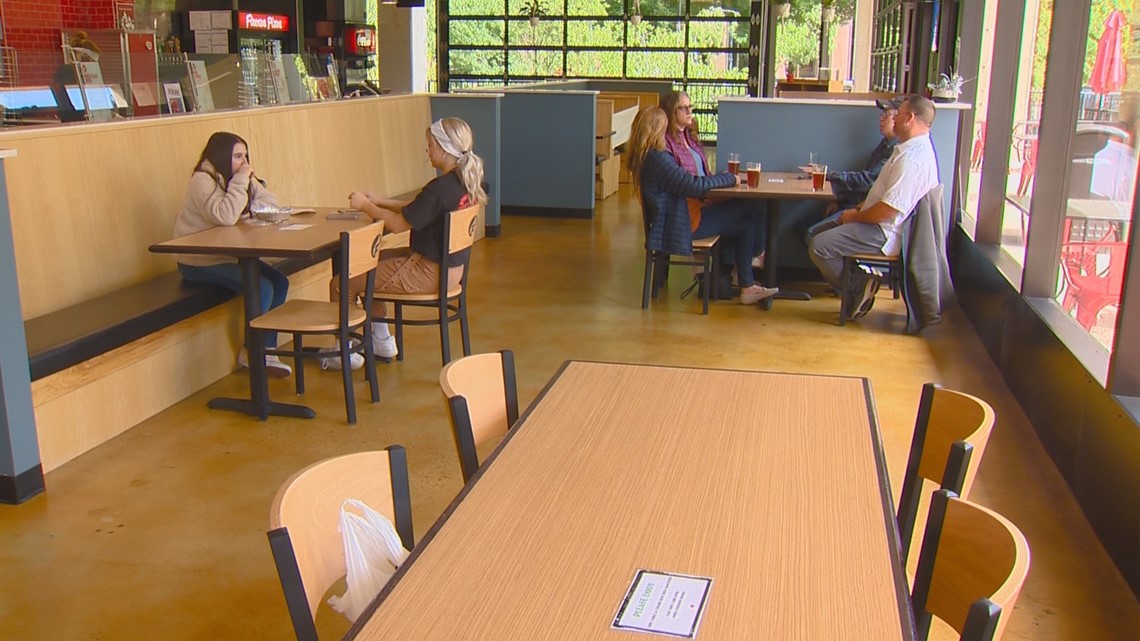 The second phase of Governor Little's four-phase plan came into effect on March 16, allowing restaurants to open to dine-in customers.
BOISE, Idaho – The lights are on, the closed signs are upside down and the doors to some restaurants in Treasure Valley are open again, but not only to take away, but also for customers who invite you to dinner.
How was the business going?
"A little better than expected, but definitely not as it used to be,"
; said Erik Mcfarland, owner of Epi's Basque restaurant in Meridian.
Epi opened its doors to customers on Tuesday, just days after Governor Brad Little announced that Idaho could reach the second stage of his state reopening plan.
"We had to leave out a few tables and a few seats to make room and give the feeling that everyone had a nice place around them," said Mcfarland.
He made the decision after receiving feedback from his employees and customers.
RELATED: What is Governor Little Level 2 planning to reopen Idaho?
"What we found was that people want to feel and want things to get back to normal, and I realistically think that this can take a little bit of time, so we took extra precautions like everyone else." Mcfarland said.
Like Epi's, Firenza Pizza in downtown Boise has made changes since it reopened.
"Instead of having six feet between tables, I'm closer to eight feet," said Firenza Pizza owner Duane Paris.
He has also halved the number of seats available in the restaurant, but despite the changes, business in Paris has been sluggish.
"I was hoping that this week would be a little better than last week," said Paris. "Our deliveries are starting to increase, but I mean our sales have dropped dramatically. They used to be about 25 percent of what they were before COVID, and now they're probably down another 10 percent. These are tough times."
On Friday morning, the Western Collective brewery opened its doors just in time for Memorial Day weekend to feed customers.
"Today was interesting," said Cary Prewitt, owner of the Western Collective. "Last weekend, when everything came out and restaurants in Idaho were allowed to reopen, many wineries were reopened as food producers, and we decided to take advantage of that too."
He says the pandemic forced her to get creative. They created new beers, began to preserve and market their products to grocery stores, and while they continue to do so, customers can now enjoy their products from home and at work.
"All our servers wear masks, we only do table service, so come on, you wait at the front door and you sit down at a table and then you get table service, which is a first for us because it was ordered at the bar in front." said Prewitt.
"It feels really good to be back and we definitely appreciate this community," said Mcfarland.
CONNECTION: "This is about community": Restaurants, salons and gyms in Idaho are reopening for insecurity and smiling customers
RELATED: A bar that serves food; A restaurant that serves alcohol: The main legal distinction in Idaho has shifted over the years
Facts don't worry: More about the corona virus
Check out our latest updates in our YouTube playlist:
https://www.youtube.com/watch?v=videoseries
At KTVB, we focus our reporting on the facts, not the fear of the virus. To see our full coverage and the latest COVID-19 case numbers, visit our Coronavirus section here: www.ktvb.com/coronavirus
Source link