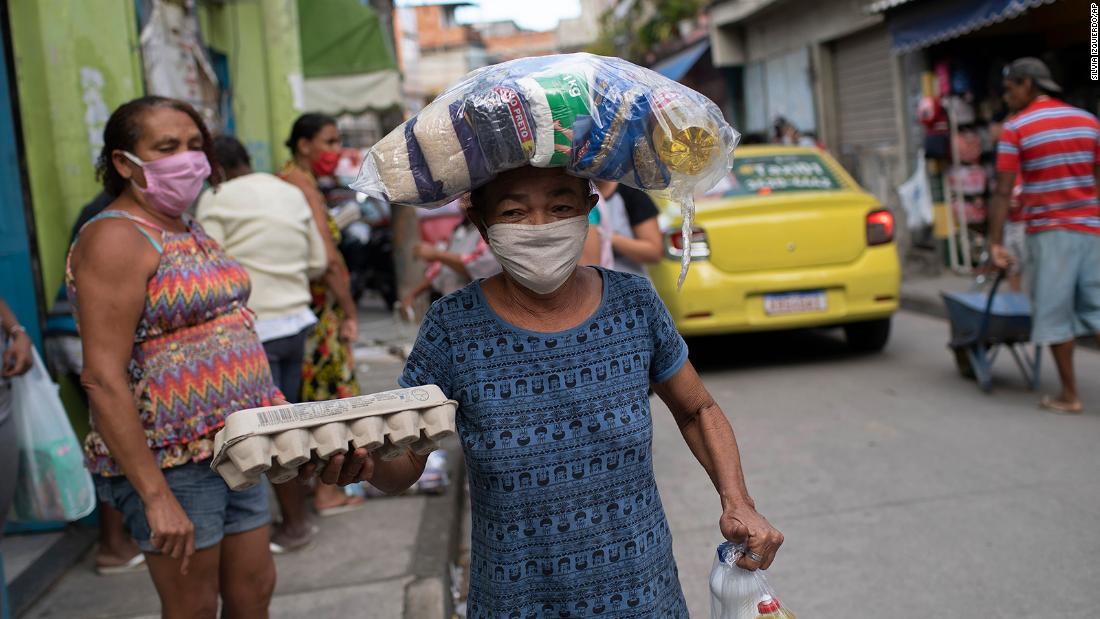 An estimated 12,000 people a day could die of hunger associated with Covid-19 by the end of the year, Oxfam said. For comparison, data from Johns Hopkins University shows that the deadliest day of the pandemic was April 17, when 8,890 deaths were recorded.
"The pandemic is the final straw for millions of people already struggling with the effects of conflict, climate change, inequality and a broken food system that has impoverished millions of food producers and workers," said Chema Vera, Interim Executive Director of Oxfam, in a press release.
Issues that have led to many being unable to put food on the table include loss of income due to unemployment or a reduction in remittance payments, lack of social support for those working in the informal economy, and disruption the supply chain and hurdles from producers.
Travel restrictions related to barriers, which affect not only workers and farmers, but also the provision of humanitarian aid, are also contributing to the crisis.
These new challenges add to longstanding problems that exacerbate global hunger, including wars, climate change and increasing inequality.
RELATED: The pandemic can damage the way we get our food in the long term
In his briefing, Oxfam evokes titans from the food and beverage industry such as Coca-Cola, Unilever and General Mills.
"Meanwhile, frontrunners continue to make profits: eight of the largest food and beverage companies have paid out more than $ 1
8 billion to shareholders since January, despite the pandemic spreading around the world – ten times more than the UN needed stops to prevent people from going hungry, "the press release says.
Covid-19 exacerbates food shortages
According to Oxfam, the coronavirus pandemic has "fueled the fire of an already growing hunger crisis".
Data from the World Food Program quoted by Oxfam estimate that 821 million people were food insecure in 2019 and 149 million of them were suffering from "hunger for the crisis or worse". Current forecasts predict that the number of people suffering from crisis hunger could reach 270 million in 2020 due to the coronavirus pandemic, an increase of over 80% compared to the previous year.
Oxfams Briefing identifies 10 extreme hunger hotspots around the world where the pandemic is already aggravating critical situations. These are: Yemen, Democratic Republic of the Congo, Afghanistan, Venezuela, West African Sahel, Ethiopia, Sudan, South Sudan, Syria and Haiti.
However, the negative effects of the pandemic on food security can also be felt in middle-income countries such as Brazil, India and South Africa, where, according to Oxfam, "people who have just finished management have been marginalized by the pandemic" .
Brazil and India are now dealing with the world's second-largest and third-largest outbreaks of coronaviruses, which are only overshadowed by the United States. The cases in Brazil have exceeded 1.7 million, and India has over 767,000. The United States exceeded 3 million cases on Wednesday.
Food insecurity in the United States and the pandemic
Hunger is increasing worldwide and the United States is no exception.
Last week, 1.3 million people started applying for unemployment benefits, and according to Feeding America, another 17 million people in the U.S. could be food insecure in 2020 due to the pandemic. That would bring the total number of Americans who have difficulty putting food on the table to around 54 million people, or one in six, the organization estimates.
RELATED: Food Prices Are Rising. The following becomes more expensive
"This is a 46% increase over the 37 million people who were food insecure before the COVID 19 crisis," said Emily Engelhard, managing director of Feeding America.
According to the organization, many more Americans are using food banks across the country to get through.
Based on preliminary data from Feeding America's most recent food bank survey, 83% of the organization's food banks said the number of people served had increased compared to that time last year, with an average increase of 50%, Engelhard said.
The pandemic also exposed vulnerabilities in the US food supply chain. For example, Covid 19 outbreaks significantly affected meat processing plants across the country and created bottlenecks.
"We need a more diversified supply chain system where you have a lot more actors," to avoid such problems, Miguel Gómez, associate professor at the Cornell School of Applied Economics told CNN.
"There has to be a balance between regional and more global players. You don't want to rely on just one supply chain to feed a population, because that's risky," said Gómez, an expert in sustainability in the supply chain.
Avoid the worst case
Gómez said he was not surprised by Oxfam's grim predictions, although he was optimistic that the worst-case scenario they expected could be avoided.
"It is clear that our food distribution system has large inequalities," said Gómez. "A long-term problem is how we can shift the focus from focusing on efficiency and maximizing profits to a more resilient, fair production and distribution system for food," he added.
Gómez believes that the solutions lie in global policies, such as investing in food aid programs, building or strengthening food security networks, and helping farmers with falling revenues.
RELATED: The pandemic has marginalized America's peasants. This could help us survive
Gómez argued that stronger government intervention to buy and redistribute food, as well as measures to prevent retail prices for basic needs from rising "at least in the short term" would also be important.
"We shouldn't forget the importance of public policy or the government to ensure the availability of products at fair prices," said Gómez.
Oxfam's recommendations to solve the present crisis also point to the importance of governance and leadership at a global level.
"Governments can now save lives by fully funding the United Nations' COVID 19 appeal, ensuring that aid goes to those who need it most, and reducing developing country debt to free up funds for social protection and health care "Oxfam's interim executive director, Chema Vera, is quoted.
"To end this hunger crisis, governments must also build fairer, more robust, and more sustainable food systems that place the interests of food producers and workers ahead of the profits of the large food and agricultural industries," added Vera.
Source link