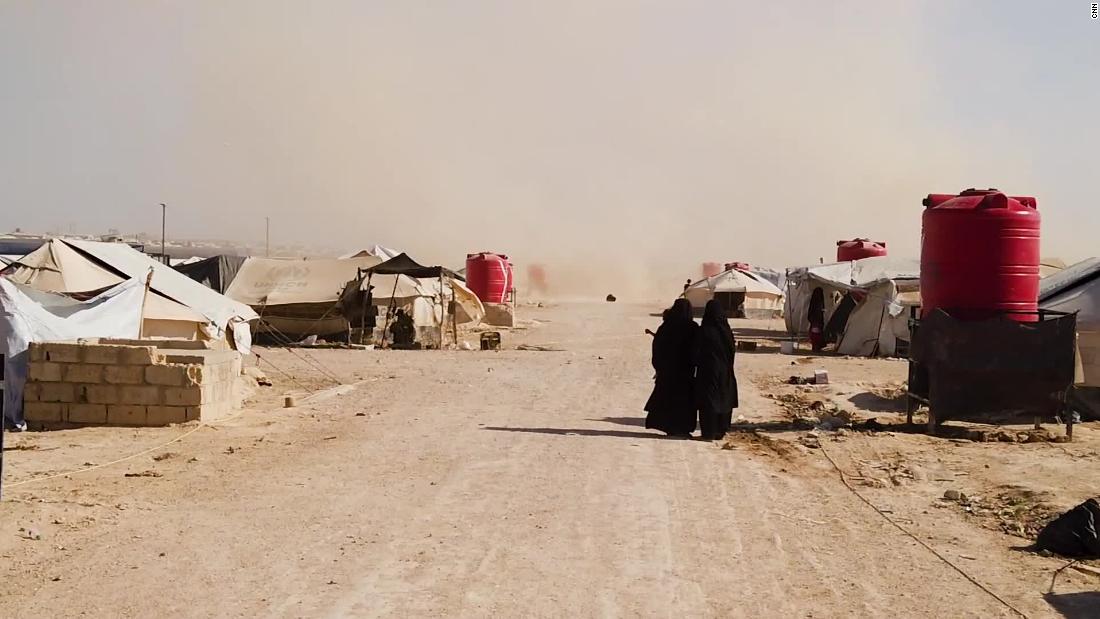 A CNN team approaches a group of Iraqi women. Our request to speak with them triggers a debate. "Sisters, do not say anything," a woman warns the rest of the group.
"No, sister, we have the right to speak," replies another litany of abuses. The children start to steal. You do not have any money. The conditions are miserable. They want to go home.
About 15% of the inhabitants here are foreigners, but the international community neglected the camp for months. And as living conditions worsen, the longing for IS rule begins to brew.
The camp's population rose from 9,000 to 70,000 after ISIS relocated to its last location in the Syrian city of Baghouz in March. Weeks of struggle led to a large influx of displaced persons, mainly families of ISIS fighters.
About 50,000 of the camp's residents are children, most are women. They are the ones who have lasted until recently in the rapidly shrinking so-called caliphate.
And while some of the mothers have desperately tried to find a way out of the camp, many are trying to bring their fundamentalist utopia back to life.
"We found that the newcomers were very well organized," says Mahmoud Karo, who heads the camps in the northeastern Syrian district of Jazira. "They have organized their own moral police, they are structured."
Draconian Laws
Under the guise of secrecy, the radical female residents have continued to enforce the draconian laws of the former so-called caliphate.
They monitor women's loyalty to ISIS and punish those suspected of having wavered in support of the extremist group.
Fulfillment of fundamentalist clothing rules is closely monitored and sometimes fatal penalties imposed on those who get out of hand.
"The Stock is the best place to develop the new IS There is a restructuring of IS indoctrination. " Karo. "You can not tell who ISIS is and who is not."
It's difficult to track down the culprits, he says. The women, wrapped in niqab, are hard to identify. They often change tents to avoid capture.
A report from the Pentagon General Inspector last month warned that the US and its local allies were unable to closely monitor the movements within al-Hol. A worsening of the US military presence in the region has "allowed the ISIS ideology to spread indisputably in the camp," the report said.
Growing extremism in al-Hol is accompanied by signs of the resurgence of IS in other regions.
ISIS attacks in northwestern Iraq, where the group once ruled large areas, are mounting and the group has taken responsibility for other attacks in the region in recent months.
US Secretary of State Mike Pompeo has acknowledged the trend and noted last month that there are "places where ISIS is more" today more powerful than three or four years ago.
Kurdish camp officials refer to al-Hol as the "ISIS Academy." The place is a poisonous mixture of those who want to incubate the ideology of IS and those who want to leave their past behind.
According to Of camp officials, a blatant lack of international participation and neglect has allowed extremism to flourish.
There are around 10,000 people in the camp, foreigners from other parts of Asia, Africa, Europe, and North America, and very few have been returned, and returning them to their homelands is neither Politically popular in Europe even abroad.
& # 39;
Women on the warehouse market state that their top priority is the release of their imprisoned husbands and teenage sons , which are being held by the Syrian Democratic Forces.
"I tell my children that their father is with the infidels," says ei a wife to CNN.
"When the prisoners are released, our hearts and the hearts of our children can sympathize with you," she says. "But if the prisoners are not released, the hatred grows with the women and children."
Another woman says she does not know what happened to her imprisoned teenage son. The situation has driven her to the brink of madness.
"When men are not released, women become the largest cell," she says.
Extremists and Refugees
After Abdel Qader Mohammed fled to al-Hol with his wife and children from Deir Ezzor three years ago, he opened a barber shop in a small cement and brick room in stock.
Muhammad was one of the first inhabitants of the camp The influx of those who had stayed with ISIS when the group took their last stance. He is one of the few men in this place – and the only person we met who was willing to speak out against ISIS. "We can not talk to the ISIS people here, even [as] if we cut our hair, tell us we are infidels."
In one of the tents a woman says she is desperate to get out of Al – Hol's oppressive atmosphere. However, there is no rehabilitation program for the people in the camp and no efforts to separate extremists from those who reject ISIS.
A telegram chat group has turned al-Hol's "death camp" into a protest call for ISIS. In Arabic, English, French and Turkish, the "atrocities" committed by the "swine enemies of Islam" are described and the "lions" – a reference to extremist fighters – in northeastern Syria are called upon to "wake up".
In July, a woman calling herself Umm Bakr al-Ansariya issued a well-known fatwa, an Islamic decree calling for Muslim helpers to wear the niqab and threatening those who resisted the order, with "punishment by the sword.
That same month, a social media video showed how the black ISIS flag was hoisted in the Syrian section of the camp.
"It's a reaction to the psychological pressure on us," a woman who in the Syrian section of the camp explains. "They should know that more can be done than to hoist a flag."
The Foreigners Authority
In the foreigners authority of the camp makes a little girl with a blonde ponytail zips around a playground on a toy scooter playing with other children, a mix of Europeans, Asians and Africans.
"Are you afraid of us?" asks a 23-year-old German woman.
Should I be? "I answer.
"I'm just asking," she says, wondering aloud why her country will not take her back. She says she no longer wants to live by the rules of the so-called caliphate.
"This is not a camp, it's a prison," she says.
The residents here say they live out of fear of the camps ISIS vigilantes. Another woman says her tent burned down. Her friend says she is so afraid of being stabbed that she hardly sleeps.
A foreign woman strangled her niece for removing her niqab while another was beaten in front of her tent for cleaning without niqab, says Karo.
Prisoners of the Caliphate
Outside the camp, a prison controlled by the predominantly Kurdish, US-backed Syrian Democratic Forces (SDF) offers a completely different scene models. About a dozen of them squat over a long table and build a small football stadium, houses, cars, animals and flowers.
The walls are lined with other creations: a model city with twinkling lights, a mosque, a church.
"We're doing it from nature," prisoner Ali Othman says with a giggle. "Can you help us?"
Othman says ISIS has taken his family hostage in Raqqa, the former seat of their power, and forced him to join their ranks. He was assigned to plant bombs in another city.
One day he received a plastic bag that exploded and grabbed his right hand. He covers it today with a glove. He is serving the maximum sentence for 20 years.
There is no death penalty here and prisoners can be released prematurely for good behavior – unlike the authorities in Damascus and Baghdad, the Kurdish forces are indulgent.
They also try to separate extremist inmates from those who seem to have parted ways with their past – a policy not used in al-Hol.
Some of the detainees claim to have been arbitrarily detained. Others say they are innocent, but were left by family members who were themselves members of ISIS. Some, like Othman, admit to being a member, but claim they have no choice.
Rehabilitation, Recovery
Near the Al-Houri Rehabilitation Center, a number of teenage boys use ISIS-related boy condemnation or radical tendencies.
"Abdullah," 15, says he came to ISIS at the age of 12. We call him Abdullah to protect his identity. It is not his real name. He trained for months before being sent on his first mission: planting explosives on a US base.
"They brought us sticky bombs under the fuel tanks of the vehicles," he recalls. "We have suicide vests and guns, we put on the west and took our guns and then wore women's niqabs to hide everything."
The operation failed and he ended up in jail. Later he was taken to the rehab center. "I was able to distance myself, it was a mistake, I learned from it," he said.
Other children show visible signs of trauma. One kid, "Hassan," was the son of an ISIS emir who used to behead people and give Hassan their heads for use as footballs. Hassan is not his real name, but one with which we protect his identity.
In the rehab center "Hassan" is a recluse; he does not want to be interviewed.
The administrator of the center, Musab Mohammed Khalaf, does not know if he will ever really recover.
The Rehabilitation Center seeks to provide basic psychological support to help Hassan and others recover. But resources are limited and the trauma is more than you can imagine. It is clear to everyone how much ISIS indoctrination can be removed from a youthful mind.
"If the situation stays that way and the nations do not help, ISIS will come back," warns Khalaf. "We hear that the sleeping cells are exploiting the children and trying to recruit them."
The al-Hol camp is a desolate, wretched place that nations desire. It is the legacy of yesterday's war.
And that's what makes it uniquely dangerous, because when it is allowed to fester, this vast camp contains the seeds of the next war, the retribution generation of the IS.
This story has been updated and the name of the rehab center has been corrected.
Tamara Qiblawi of CNN contributed to this report.
Source link