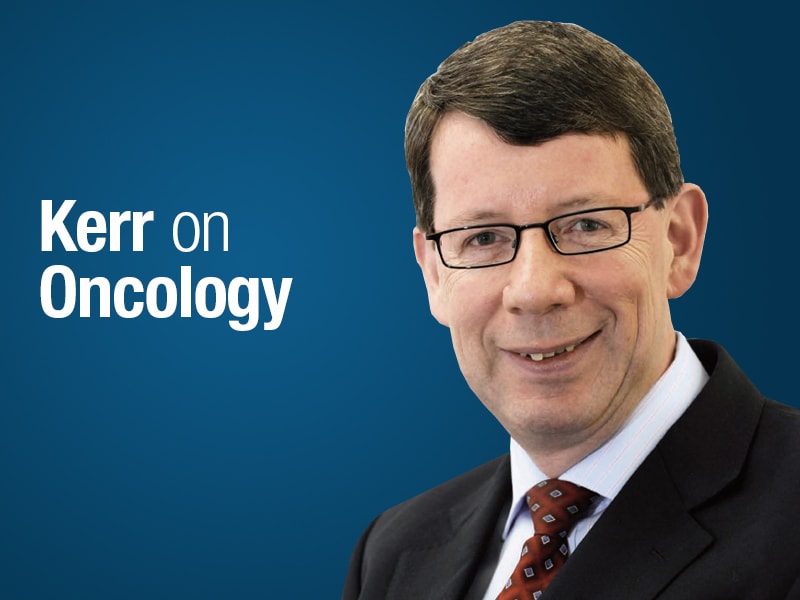 It's time for the annual meeting of the American Society of Clinical Oncology (ASCO), and for those of you who are going out for the first time, you'll enjoy a meeting of outstanding scientific quality. Plan ahead. Think about why you really want to go and concentrate. Do not exhaust yourself. instead, Tempo itself. I can say that as a veteran of many of these meetings. But clearly, ASCO and the annual meeting of the European Society of Medical Oncology (ESMO) offer great news and high quality work. Have fun.
I wanted to mention some abstracts that caught my eye. In Abstract 3509, Michael Geissler, MD, PhD and colleagues report [1] a very interesting study of triple chemotherapy with anti-EGFR, using combinations of a modified FOLFOXIRI regimen plus panitumumab compared to FOLFOXIRI alone in chemo-naive, frontal Line, non-resectable, RAS Wild-type patients with metastatic colorectal cancer
It is a nice study design in terms of how you advance the regimen. There was a 2-to-1
randomization of 96 patients. What really struck me was the extraordinary response rate in the combination arm: 85.7% versus 54.5% in the chemotherapy arm alone.
It is fantastic that we can achieve response rates at this level with appropriate patient selection. This is clearly a regimen that could be very effective in certain patient populations. There are also some subgroup analyzes with relatively small numbers, which we should treat with caution. But it's a study to watch out for.
In another interesting abstract, 3507, Katherine Clifton, MD, and colleagues [2] did a very good study using a clever method to study new circulating DNA copy numbers. They looked for driver mutations in a very large cohort of colon cancer patients; Nearly 5000 patients underwent molecular profiling with a plasma-based Next Generation sequencing assay.
The assay included driver mutations such as ROS1 RET ALK and some of the FGF receptor fusions. In this well-designed study, they found 41 patients who were able to detect DNA driver mutations. It was a great effort and very well done; However, a fairly small repayment in the face of the effort. So far there is – at least in the summary – yet no evidence whether these mutations were clinically usable for the driver.
This raises the question of how much work is still to be done with regard to the next assignment. Generation sequencing in precision medicine. There is an extraordinary potential for the use of gene sequencing, but can it actually be brought to significant, practical clinical benefit?
Another summary that caught my eye was 3505, reported by an excellent Italian group with lead author Filippo Pietrantonio, MD [19659011] This study addresses the issue of preserving chemo in patients with RAS Wildtype, inoperable, metastatic colorectal carcinoma. Patients received FOLFOX and panitumumab for eight cycles of induction therapy, and then were randomized to two maintenance regimens: panitumumab alone or panitumumab plus 5-FU / leucovorin infusion. They had 229 patients spread evenly over each arm. The study showed a benefit of conservation with chemotherapy and panitumumab.
This is an area that still fascinates me. In the old days, we published a series of papers in the Lancet from the United Kingdom, in which we discontinued or continued chemotherapy until progression for patients who responded or had a stable disease. In these rather old-fashioned studies, a complete chemotherapy break did not disturb or reduce overall survival. Not surprisingly, this has been associated with an improved quality of life. Of course, there have been recent studies from Italy, France, and the Netherlands, where some form of de-intensified maintenance chemotherapy is associated with prolonged progression. free survival. This is more or less what has been shown here – instead of using panitumumab alone, if you de-intensify the chemotherapy, we will use the infusion of 5-FU / leucovorin.
In our clinic we tend to use capecitabine. And we tend to select patients for maintenance therapy who have a higher metastasis or tumor burden at presentation; who presents with relatively oligometastatic disease, which, for whatever reason, is not technically ablatable or operable; and who has a good answer to chemo.
For the elderly, the frail and those who have suffered toxicity with chemotherapy, we would give them a chemotherapy break and reintroduce chemotherapy on the progress of the disease.
In younger, fitter patients who tolerate chemotherapy and had a high initial disease burden, we would offer a maintenance treatment. A fluoropyrimidine and anti-EGFR inhibitor in RAS wild-type disease appears to be perfectly reasonable. But think about the possibility of a complete chemotherapy break for those who have more indolence and are perhaps less tolerant to chemotherapy.
Finally, enjoy the ASCO meeting. Please select those abstracts that interest you and let them know in the Comments section.