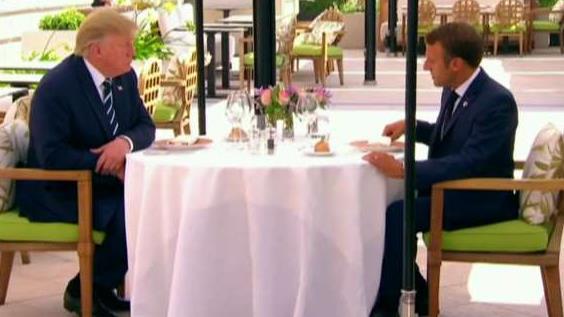 President Trump tried on Saturday to smooth his spiky relationship with French President Emmanuel Macron when he came to France for the G7 summit and told reporters he loved French wine hours after he threatened to tariff on export to impose.
] "I love French wine," the president told reporters sitting across from Macron for lunch after arriving in Biarritz. "We have a lot in common, Emmanuel and I," he said. "We've been friends for a long time and we go over it a little bit from time to time, not very much, but we get along very well, we have a great relationship, I think I can say a special relationship. "
Trump had threatened hours earlier than his departure from Washington to impose tariffs on French wine for the French digital services tax that would hit US technology companies.
Trump said he was not a "big fan". "These are great American companies, and frankly I do not want France to tax our companies."
"And if they do, we'll tax their wine or do something else," he said. "We tax your wine like you've never seen it before."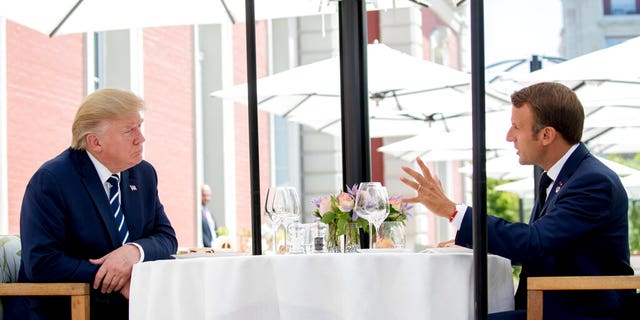 Trump's relationship with Macron has developed dramatically. In April of last year, the relationship reached a climax when the French Prime Minister visited Washington, held hands with the man he called "Cher Donald", and even wiped himself off the American president's shed.
But this relationship with Macron worsened more and more critical of his American ally. After Macron proposed to build a European army to protect himself from China, Russia, and the US, Trump responded by meeting Macron for his low ratings – and suggested that the US wine be equal to the French grape.
Trump faces a difficult summit and is expected to spread a message of growth and talk about what he has done to reduce taxes and regulations domestically. Trump will call on countries to reform the World Trade Organization (WTO), believing that China has shaken the system and that countries must act against it.
Trump has arrived at Air Force One after changing planes in Bordeaux bill of the shorter runway in Biarritz. His motorcade drove through barricaded streets on the way to the high-altitude summit area, while some of the residents looked at the windows from above.
Heads of State and Government are facing a global economic downturn amidst escalating trade war between the US and China. The US has announced that it will levy 10 percent in two steps on Chinese goods worth $ 300 billion. China responded on Friday with new tariffs on US $ 75 billion in retaliation and exacerbated the trade dispute and technology that threatens to tip a weakening global economy into recession.
On Friday night, Trump said China products, which were hit on September 10 with a 10 percent tariff, now face a 15 percent tariff. Trump also said that goods and products currently taxed at 25 percent will be taxed at 30 percent from 1 October.
CHRIS WALLACE: G-7 MAY BE IN A RACE AFTER A WEEK OF VOLATILER MARKETS
Trump also ordered US companies to look for alternatives that China does not do business with.
"Our country has stupidly lost trillions of dollars to China for many years," he tweeted. "They stole our intellectual property at a rate of hundreds of billions of dollars a year and want to continue. I will not allow that!
In addition to the economy, Trump said he wanted to talk to other leaders about Iran's lack of access to nuclear weapons, and Trump withdrew the US from the Iranian nuclear deal last year – a move that European leaders are refusing. [19659003] Trump is a gathering of world leaders, often chilling events, pushing his vision of "America First." He has not only worked with Macron in the past, but also with Prime Minister Justin Trudeau and the German Chancellor Angela Merkel – both present at the summit – removed the US signature from the policy statement that had been approved by all seven nations at last year's Summit.
CLICK HERE TO OBTAIN THE FOX NEWS APP
On Saturday he will probably receive at least a warm welcome from the new British Prime Minister Boris Johnson. The couple had a warm conversation and shared similar visions of Britain's exit from the European Union.
Trump has scheduled individual meetings with several leaders, including Macron, Trudeau, Merkel, Japanese Prime Minister Shinzo Abe, and Indian Prime Minister Narendra Modi.
Fox News & # 39; John Roberts, Alex Pappas and The Associated Press have contributed to this report.
Source link