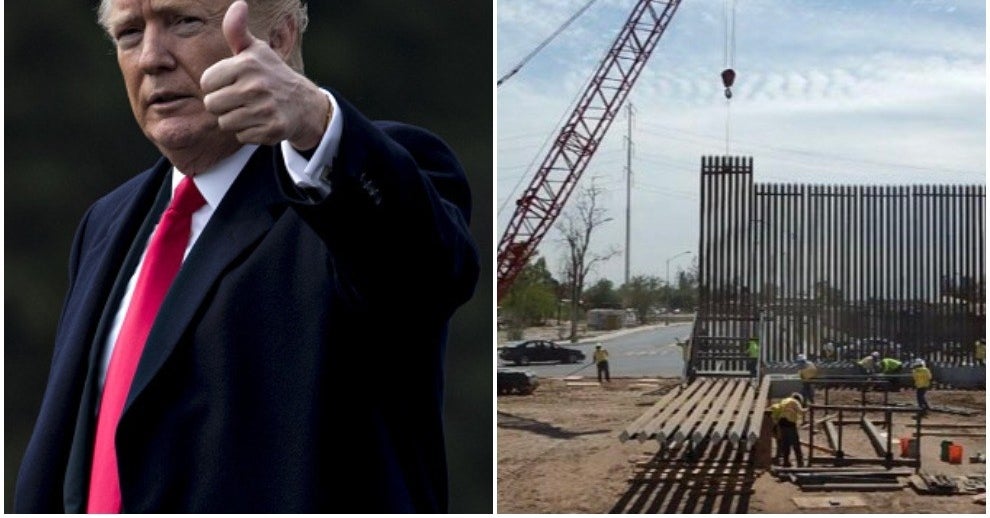 President Donald Trump on Thursday repeated a lie about the construction of his long-promised wall on the Mexico-Mexico border.
"We started building our wall, I'm so proud of it, we started it, I saw the pictures yesterday, I said, what a beauty," he said, while seeing a group of union workers and supporters in Ohio addressed.
That's the thing he undoubtedly referred to were those he tweeted on Wednesday that were from the work that started in 2009.
He wrote, "Great statement this afternoon on the launch of our southern border wall!"
The 2009 construction project is scheduled to replace a 2.25-mile section in the California-Mexico border, according to a statement by the US Customs and Border Guard in February. The original made of scrap and other material was made in the 1
990s.
"Although the existing wall has proven effective in preventing illegal cross-border activity, smuggler organizations damaged this outdated version of a border wall several hundred times over the past two years," Customs and Border Patrol "(CBP) said in a statement. A Homeland Security official told Buzzfeed News Wednesday that Trump met with Homeland Security Secretary Kirstenen Nielsen and CBP Representative Kevin McAleenan on Wednesday (19659002) The Border Patrol office in San Diego tweeted images of the project in February and some they made it into Trump's tweet.
Trump has repeatedly pledged to build a wall along the US-Mexico border and force Mexico to pay for it, a plan his Mexican counterparts have rejected several times. [19659002] John Kelly, the White House chief of staff, said in January that Trump's "hiring "had changed on the wall and started to downsize the wall, while he acknowledged that Mexico would not pay for it, even though the President disagreed with Kelly's statements the next day.
Some of his most ardent followers have turned against him because of his supposed inaction on the wall. Ann Coulter, once a cheerleader of the President's views on immigration, recently called him "a shallow, lazy ignorant."
Source link