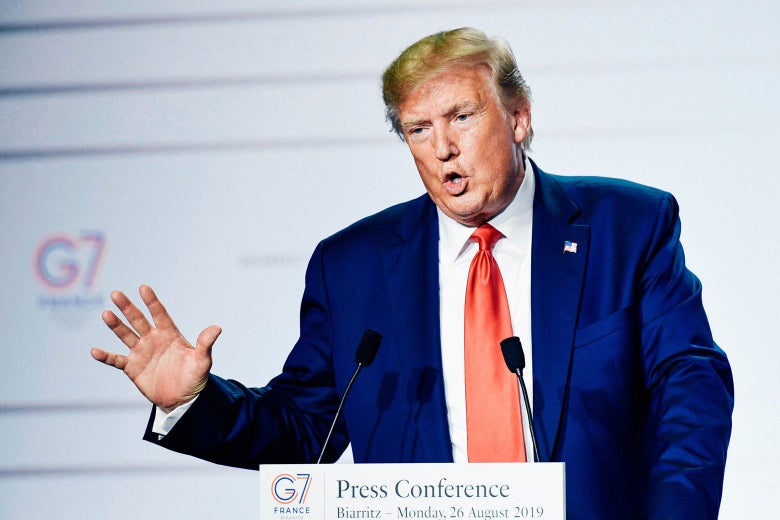 The ferocious press conference by President Donald Trump at the end of the G7 summit once again shows that the alleged author of The Art of the Deal is a lousy negotiator.
It is one thing and somewhat risky to put China and Iran under "maximum pressure," but at least this is a strategy. It's a different matter, and it's just nonsense to do so, and then admit that you're "thinking" about how tariffs escalate against China (and then have a spokesperson who sets the opposite) and to welcome a dialogue with Tehran (just to ruin President Hassan Rouhani)).
Similarly, it is one thing, albeit unconstitutional (and therefore a meaningless bluff), to direct US companies to cease operations with China, as Trump did shortly before the summit. At the subsequent press conference, another said that President Xi Jinping was a "great leader" who would reach an agreement soon, and if so, companies should remain in position and "do a great job."
What should you do if you are a business leader in China, trading currencies, or trading almost anywhere in the world? How should you plan months or even fewer years in advance? Protectionism may be bad enough, as Paul Krugman wrote in the New York Times, but "erratic protectionism" is the stuff of chaos and falls.
The fundamental problem with Trump's meanders is that he does not know what he wants .
It's not just finance and industry that trumps Trump. This erratism also distorts diplomacy and harms US interests. When asked about his tendency to go back and forth at the press conference, Trump said, "That's the way I'm negotiating." Over the years, I've done well, and the country is even better. "
Well, no. Trump has not proven very well over the years, unless you define "very good" as an increase in profits by accounting for suppliers and avoiding debt by reporting multiple bankruptcies. And no technology has an analogue in the more complex field of international politics.
When negotiating a contract or completing a real estate transaction, both sides – Trump and the one sitting on the other side of the table – pursue identical, if conflicting, goals (to maximize sales), and both play the same Rules and regulations.
When negotiating a trade agreement or an arms control pact, each side has many different goals – not just what an observer might view as his national interests, but also the interests of a large number of domestic and bureaucratic factions. This could be difficult to appease and often requires a smart and delicate approach. (This is a place where secret services are useful, too bad that Trump ignores them.)
Suppose Trump has the situation in China and Iran under control, and maximum pressure is a promising tactic. He had to stick to it for it to work. To the extent that Xi and Rouhani have ever trembled in their boots (a doubtful condition), Trump comforts them – assures them (right or wrong) that they can wait for the crisis, that either Trump fails or the damage he causes for the US economy will usher in a more stable administration.
The fundamental problem with Trump's meanders is, I suspect, that he does not know what he wants. If Xi wanted to end the trade war now, it is not clear what he has to do to persuade Trump to a truce. It is also not clear what Rouhani would have to do to lift the sanctions against his country. In both cases, Trump shattered the works – imposing enormous tariffs on China and withdrawing from a multinational nuclear deal with Iran – and believed the other side would simply fall victim to America's power and its own bargaining power.
He had no backup plan, no priority list of what he would more or less be willing to compromise with – it made no sense that a compromise might be necessary.
China steals intellectual property and conducts unfair trading practices; That's hard to believe and too many former Presidents have done too little. However, dropping 25 percent on all Chinese goods does not solve the problem, and indeed detracts from the search for solutions. Iran finances terrorists and builds ballistic missiles with reach to attack US allies. However, an exit from the nuclear agreement of 2015, which had led to the dissolution of the Iranian nuclear program, does not contribute to solving these problems. (It would have been better to use the agreement as a starting point for other issues, just as during the Cold War successive arms control treaties with the Soviet Union dealt with an ever-growing series of disputes.)
One thing Trump's games have done is show that the United States is still a powerful nation. Allied leaders, such as the G-7, have learned to treat him with kid gloves – to compliment him, laugh at his jokes and give him presents – so he does not do more damage and maybe cooperate a bit. However, they recognize that as long as Trump holds the leadership, the United States is an unreliable ally and that they would do well to make other arrangements for security, trade and other essential aspects of world affairs as soon as possible. America's competitors and opponents – especially China and Russia – recognize the evidence and, in some cases, help widen the gap.
Trump deals much more damage than he knows. At least some around him know that, but no one has the backbone to tell him.
Readers like you make our work possible. Help us continue to deliver reports, comments and critiques that you will not find anywhere else. Join Slate Plus.
Join Slate Plus