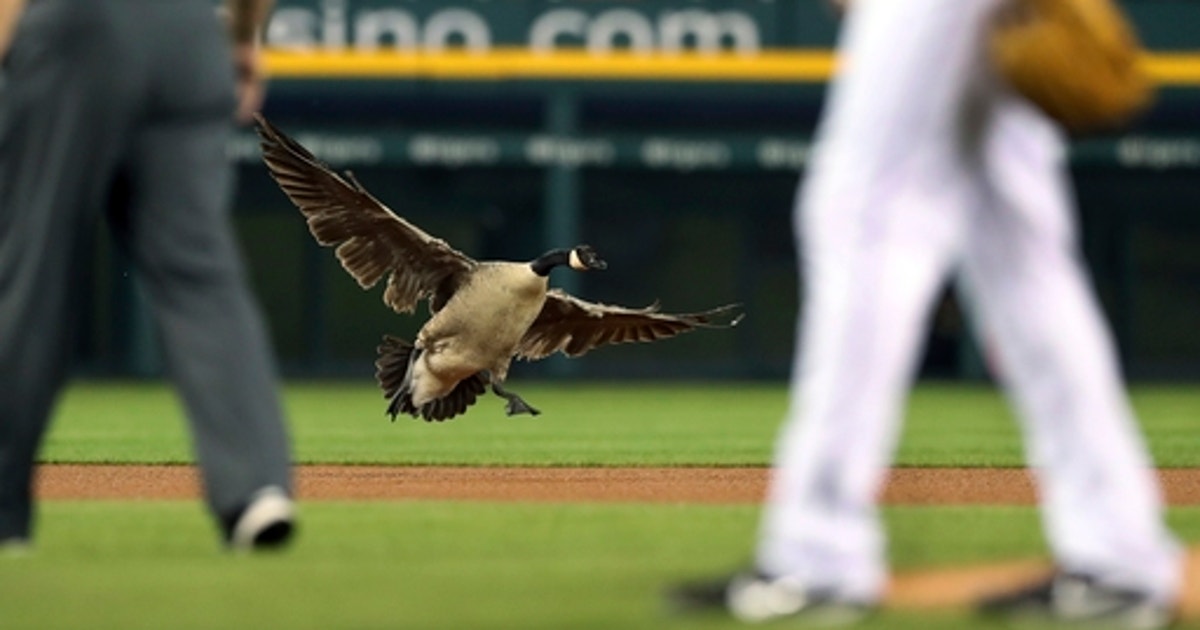 DETROIT (AP) A Canadian goose entered the right midfield during a rain break at the Detroit Tigers game, and an attempt to remove it ended in chaos.
Ground crew at Detroit's Comerica Park launched two firecrackers and another member persecuted the persecution on Wednesday night. The bird tried to escape, but crashed onto an LED board on the third deck and fell two steps into the bleachers.
The goose appearance video was shot by Fox Sports Detroit.
script.async = false; script.src = URL;
// Attach the script tag to the page (before the first script) for the magic to happen. lost firstScript = document.getElementsByTagName (& # 39; script & # 39;) [0]; firstScript.parentNode.insertBefore (script, firstScript);
}; let googlePixelLoader = function () {
Window ['google_conversion_id'] = 832239217; Window ['google_conversion_label'] = "TccACP23rXkQ8ezrjAM"; Window ['google_remarketing_only'] = false;
getScript (window.location.protocol + & # 39; // www.googleadservices.com/pagead/conversion.js'); }; let fbPixelLoader = function () { / * by https://fng-jira.fox.com/browse/FSCOM-12494 - Facebook Pixel Code * / ! Function (f, b, e, v, n, t, s) return {if (f.fbq); n = f.fbq = function () {n.callMethod? n.callMethod.apply (n, arguments): n.queue.push (arguments)}; if (! f._fbq) f._fbq = n; n.push = n; n.loaded =! 0; n.version = & # 39; 2.0 & # 39 ;; n.queue = []; t = b.createElement (e); t.async =! 0; t.src = v; s = b.getElementsByTagName (s) [0]; s.parentNode.insertBefore (t, s)} (window, document, & # 39; script & # 39 ;, "Https://connect.facebook.net/en_US/fbevents.js"); fbq (& # 39; init & # 39 ;, 161811331078914 & gt;); fbq (& # 39; track & # 39 ;, ViewContent & # 39 ;, {content_name: & # 39; Mobile_App_Install & # 39;}); };
(Function (b, r, a, n, c, h, _, s, d, k) {if (! B [n] ||! B [n] ._ q) {for (; s <_. Length;) c (h, _ [s++]); d = r.createElement (a); d.async = 1; d.src = "https://cdn.branch.io/branch-latest.min.js "; k = r.getElementsByTagName (a) [0]; k.parentNode.insertBefore (d, k); b [n] = h}}) (window, document," script "," branch ", function (b , r) {b [r] = function () {b._q.push ([r,arguments])}}, {_ q: [] _v: 1}, addListener applyCode Banner closeBanner creditHistory Credit Data deepview deepviewCta first getCode init shortcut Redirect sign off references removeListener sendSMS setBranchViewData setIdentity track validateCode ".split (" "), 0); last branchData = null; branch.init (# key_live_acdMtqDFnx4gILoc1Rq9VbckBtmjzNok #, function (err, data) { branchData = data; }); branch.addListener (& # 39; didShowBanner & # 39 ;, function () { lease iframe = document.getElementById (& # 39; branch-banner-iframe & # 39;); let btn = (typeof iframe.contentDocument! == & undefined & # 39;)? iframe.contentDocument.getElementById (? branch-mobile-action?): iframe.contentWindow.document.getElementById (? branch-mobile-action & # 39;);
btn.addEventListener (& # 39; click & # 39 ;, function (ev) { if (ev.preventDefault) ev.preventDefault ();
if (typeof window ['adwordPixelEnabled'] === & # 39; undefined & # 39;) { googlePixelLoader (); fbPixelLoader (); // specifies that it loads only once after a click Window ['adwordPixelEnabled'] = true; } }); }); branch.addListener (& # 39; didClickJourneyCTA & # 39 ;, function (o) { // just install if (BranchData &&! branchData.Has_App) { FsBeacon.DoubleClickFloodlightTracking (). Send (); } }); branch.banner ({ icon: & # 39; https: //b.fssta.com/uploads/2016/10/fox-sports-app-icon175x175.vadapt.175.high.0.png&#39 ;, Title: "FOX Sports Mobile", Description: "You're the fan, we'll do the rest!", openAppButtonText: & # 39; open & # 39 ;, openAppButtonText downloadAppButtonText: & # 39; Install & # 39 ;, sendLinkText: & # 39; Send Link & # 39 ;, phonePreviewText: & # 39; 123-456-7890 & # 39 ;, showiOS: right, showAndroid: true, showDesktop: wrong, iframe: right, disableHide: false, forgetHide: 2, Position: & # 39; above & # 39 ;, mobileSticky: wrong, desktopSticky: wrong, customCSS: # branch banner {width: 100%; z-index: 99999; Font family: "Helvetica Neue", Helvetica, Arial, sans serif; -webkit-font-smoothing: antialiased; -webkit-user-select: none; -moz-user-select: none; user-select: none; -webkit-transition: All .25s ease; Transition: lighter every 250ms} # branch-banner .content {width: 100%; overflow: hidden; height: 76px; background: # f2f2f2; color: # 333; border-bottom: 1px monochrome # c1c1c1} # branch-banner .content .links {text-align: left} # branch-banner .icon img {width: 64px; height: 64px; margin-right: 0; border-radius: 14px} # branch-banner-close {color: # 787878; font-size: 22px; above: 14px} # branch-banner .title {font-size: 14px; font-weight: 400; color: # 000} # branch-banner .description {font-size: 12px; color: # 303030; max-height: 30px; overflow: hidden} # branch-banner .reviews {font size: 10px; Edge: 1px 0 3px; Color: # ff9500} # branch-banner .reviews .star span {Display: Inline-Block; Right margin: 0; Color: # ff9500; Position: absolutely; above: 0; left: 0} # branch-banner .reviews .star svg {fill in: # fe9402} # branch-banner .reviews .review-cou nt {display: none; Font size: 10px} # branch-sms-form-container {right margin: 0} # branch-banner .button {Display: Inline-Block; Edge top: 0; Edge-left: 5px; Padding: 6px 12px; Font size: 18px; Color: # 007aff; Cursor: pointer; Text decoration: none; Background: 0 0; Frame: none} # branch-banner .button: mover {color: # 05a5ff; background: 0 0; border: none} & # 39 ;, make_new_link: wrong, Rating: wrong, ReviewNumber: 90, Theme: & # 39; light & # 39; }, {}); } } ());
Source link