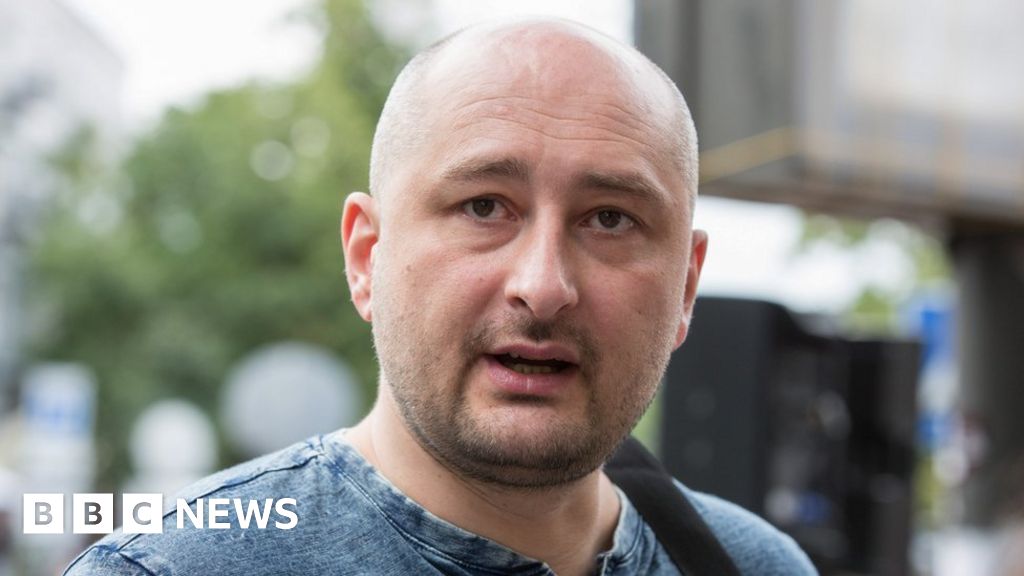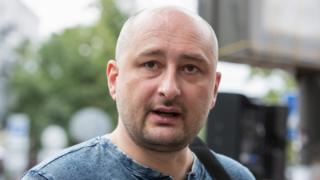 The Ukrainian Prime Minister Volodymyr Groysman has accused Russia of having been behind the murder of the Russian journalist Arkady Babchenko in Kiev.
"I am confident that the Russian totalitarian machine has not forgiven him for his honesty and principled attitude," Minister posted on Facebook.
A Kremlin critic, Babchenko was shot down in front of his apartment on Tuesday.
Russia has called for an investigation, but said "bloody crimes" have become routine for the "Kiev regime".
Relations between Russia and Ukraine are strained after the Russian annexation of the Crimea in 201
4 and seizure of parts of eastern Ukraine by pro-Russian forces.
What is known about the murder?
Babchenko, 41, was found bleeding by his wife at the entrance to his home and died in an ambulance.
He was reportedly stabbed several times in the back.
Ukrainian lawmaker Anton Herashchenko said that the journalist went out to buy bread and the murderer was waiting for him.
Kiev police chief Andriy Kryshchenko told local media, they suspect that Babchenko was killed because of his "professional activities".
In his last Facebook post just hours before the attack, Babchenko four years ago remembered a happy escape – the exact day.
He wrote that he planned to fly with Ukrainian soldiers by helicopter to the war zone The East of Ukraine.
He was not allowed on board because there was not enough space. The helicopter was shot down by pro-Russian rebels, 14 people died.
"I was lucky, a second birthday, it turns out," wrote Babchenko.
What was the official reaction?
his reaction the Ukrainian prime minister referred to Babchenko's last Facebook post.
"This is the last post of Arkady Babchenko, who wrote about his second birthday ten hours ago and then killed him."
"I am confident that the Russian totalitarian machine will not forgive him for his honesty and principled attitude Has . He was a true friend of Ukraine, who told the world the truth about Russian aggression. "
Mr. Groysman added," The killers should be punished. "
The Russian Foreign Ministry said in a statement:" We demand the Ukrainians The authorities are trying to investigate without delay.
She added, "Bloody crimes and total impunity have become routine for the Kiev regime," while at the same time condoling Babchenko's family and friends.
Who was Arkady Babchenko?
During his law studies in Moscow at the age of 18, Babtschenko was drafted into the Russian army and served during the Chechen wars of 1994-2000.
His memoirs, One Soldier's War, narrate his experiences in the Conflict that claimed the lives of tens of thousands on both sides.
Then he became a journalist and worked for a number of different outlets.
A well-known Kremlin critic, he stood in opposition unofficial elections in 2012 condemning Russia's actions in Syria and eastern Ukraine.
In December 2016, Babtschenko wrote a Facebook post (in Russian) about a crashed Tu-154 transport plane that crashed into the Black Sea with a red-arm choir to Syria.
"All die" in Russia Black crash of a seaplane
Pilot error in Russian plane crash
He claimed that this Facebook post in which he described Russia as an "aggressor" led to death threats and ill-treatment from the Russian state ,
He wrote in one piece to the Guardian that this had forced him to "leave a country where I no longer feel safe".
Babchenko also wrote for the BBC and reported on the scene about a helicopter of the Ukrainian army, which was shot down in 2014 in the east of the country.
He first moved to Prague and later to the Ukrainian capital.
A former war correspondent, he worked in Kiev as a presenter on the Ukrainian channel ATR TV.
Kiev has seen a number of deadly attacks on senior journalists and politicians in recent years. Most of them were vociferous critics of the Kremlin.
Source link