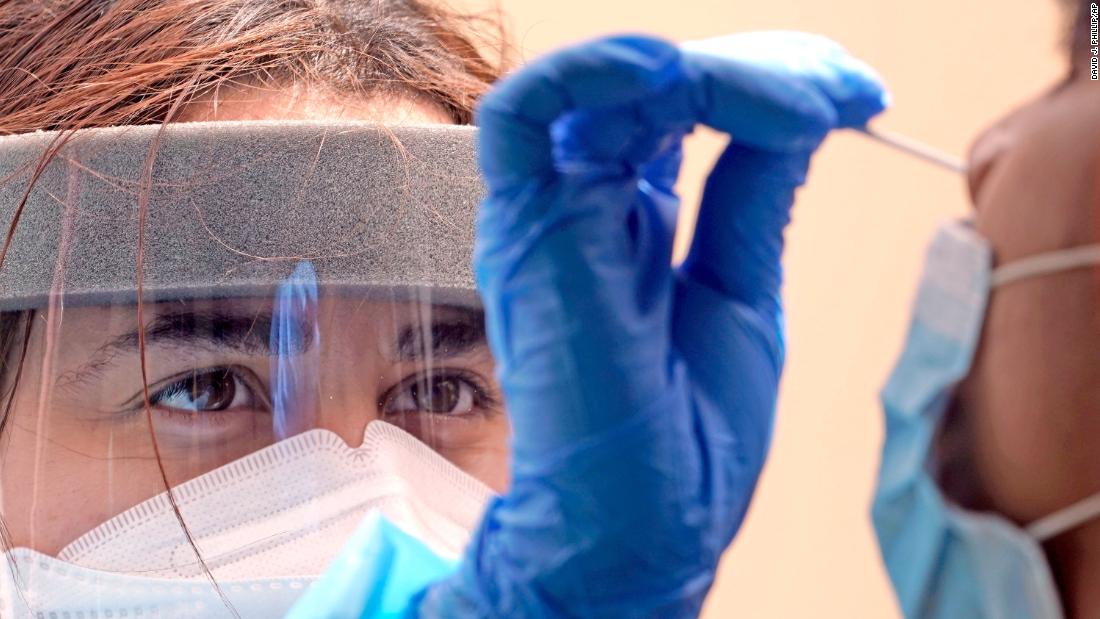 "We know people are fed up with being penned at home … but the cases have increased after Memorial Day," said Oregon State health official Dean Sidelinger. "We don't want the same thing to happen during Independence Day holidays."
The weekend of July 4th could be the "perfect storm" for an increase in coronavirus cases, said Dr. Joshua Barocas, an infectious disease doctor at the Boston Medical Center.
"The combination of travel, the combination of reopening – maybe prematurely in some cases – and the combination of people who don't necessarily follow some of these preventive guidelines," he said.
FDA commissioner on vaccine target
One thing that could slow the coronavirus march is the development of a vaccine. The Commissioner responsible for the United States Food and Drug Administration Stephen Hahn said on Thursday that the US continues to pursue the goal of having a vaccine available by the end of December or early next year.
"The FDA has given approval to conduct clinical trials for four separate vaccines, and we've seen a number of vaccine developers – double-digit numbers – so we have a lot of different shots on target, if you like. That's good news Hahn said to ABC's Whit Johnson during an appearance on Good Morning America.
"We expect two of these vaccines to be used in the late-stage clinical trials, which are large clinical trials, this month," said Hahn.
"We are on the right track to get a vaccine by the end of the year or early next year, so I'm cautiously optimistic. Of course, it depends on the data generated from the study."
Georgia Governor: "We're not out of the woods yet"
The governor of Georgia, Brian Kemp, flew through the state and encouraged people to wear face masks before the holiday weekend, even though he didn't issue a nationwide mask regulation.
"We're not out of the woods yet," Kemp said Thursday during a press conference in Dalton. "We cannot be complacent."
Kemp encouraged the Georgians to continue to distance themselves socially, wash their hands, and wear a mask or face covering.
When asked to elaborate, Kemp said, "We have a speed limit across the state, here in the city, on the Interstate. Not everyone obeys it."
Georgia has reported more than 81,000 confirmed cases and 2,800 deaths, with daily case numbers reaching record highs recently.
According to Johns Hopkins University, the virus killed around 128,000 people and infected more than 2.6 million nationwide.
The virus shows signs of resurgence
As new cases emerge and states are considering reopening, some areas that have made progress against the virus are showing signs of resurgence.
California was one of the first states to close with some of the strictest measures. On Wednesday, 9,740 new cases were reported – a number that included over 3,800 previously unreported cases over a five-day period.
More than 28 million Californians live in counties where dining halls, bars, and other restaurant interiors must remain closed due to increasing cases of Covid-19. The closings affect 72% of the state's population and include restaurants, breweries, museums, zoos, and cinemas for at least three weeks, said Governor Gavin Newsom.
"The bottom line is that the spread of this virus continues at a particularly worrying rate," Newsom said.
Partly in response to Newsom's orders, the University of Southern California changed its plans to resume personal classes in the fall semester and encouraged students to take online courses instead.
Michigan closes indoor bar service in most of the lower part of the state.
Other states, including Florida, Georgia, Idaho, Louisiana, Maine and Nevada, where the number of cases has increased by more than 50%, have halted or reversed their reopening plans.
"If you have bars, you have music. If you have music, you want to socialize. And you want to speak louder than usual to overcome the background noise," said Dr. Ricardo Franco, assistant professor of medicine at the University of Alabama in Birmingham.
All of these factors can increase the spread, Franco added.
There's still a chance to turn things around
While the predictions are terrible, the US can reverse the resurrecting coronavirus pandemic, said Dr. Anthony Fauci, the nation's leading infectious disease expert.
"It doesn't have to be 100,000 cases a day," he told NPR on Wednesday. "I used this number because I wanted to shake people."
Speaking to a congressional committee on Tuesday, he said the United States could see up to 100,000 new Covid-19 cases without intervention such as mask wearing and social distancing
"If you leave the virus to itself, it will affect you. We control the control of an outbreak to counteract the dynamics of the outbreak. And if you do things that significantly improve the outbreak, it is you." Part of the problem. They are not part of the solution, "said Fauci. One day. There are already an average of 40,000 new cases per day in the country.
CNN's Shelby Lin Erdman, Cheri Mossburg, Ralph Ellis, Jason Morris, Maria Cartaya and Amanda Watts contributed to this report.
Source link