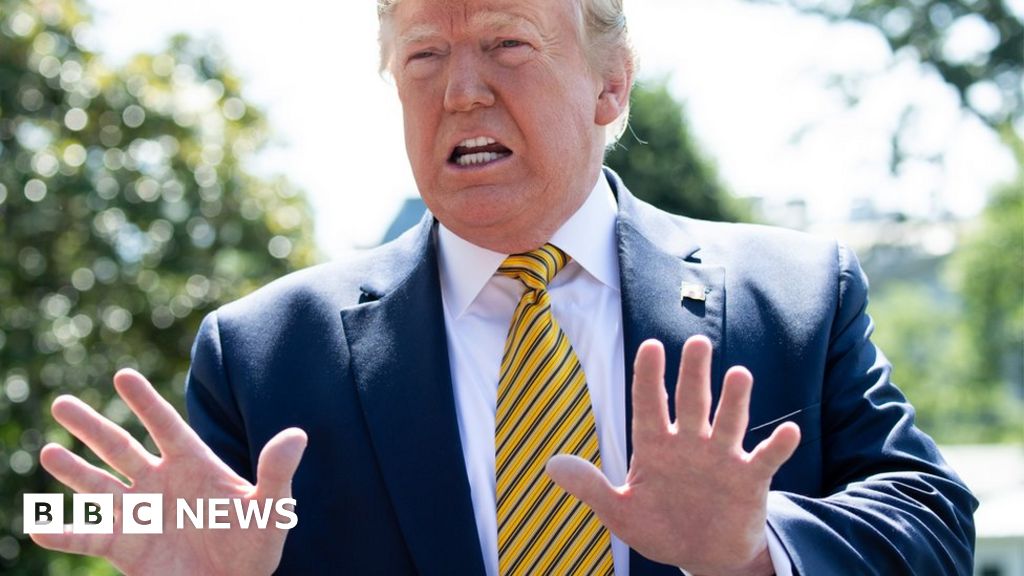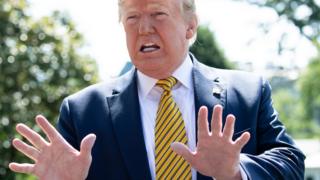 The US will impose additional sanctions on Iran to prevent it from receiving nuclear weapons, says President Donald Trump.
He said the economic pressure will be maintained if the leadership in Tehran does not change course.
"We impose additional sanctions," he told reporters. "In [some] cases, we move fast."
This happened after Iran announced that it would exceed the internationally agreed limits of its nuclear program.
The limit for its supply of enriched uranium was set by a 201
5 World Nuclear Accord. In return, sanctions were lifted, allowing Iran to resume oil exports – the government's main source of revenue.
However, the US withdrew from the agreement last year and reinstated sanctions. This triggered an economic collapse in Iran, pushing the value of its currency to record lows and ousting foreign investors.
Iran responded by reducing its obligations under the nuclear agreement.
"If Iran wants to become successful nation … it's fine with me," said Mr. Trump. "But they'll never do it if they think they'll have nuclear weapons in five or six years."
"Let's make Iran great again," he added, reiterating his election campaign from the 2016 presidential election.
How did US sanctions hit Iran?
The reintroduction of US sanctions last year, particularly in the energy, shipping and financial sectors, has stalled foreign investment and depressed oil exports.
Sanctions prohibit US companies from trading with Iran, but also with foreign companies or countries involved in Iran.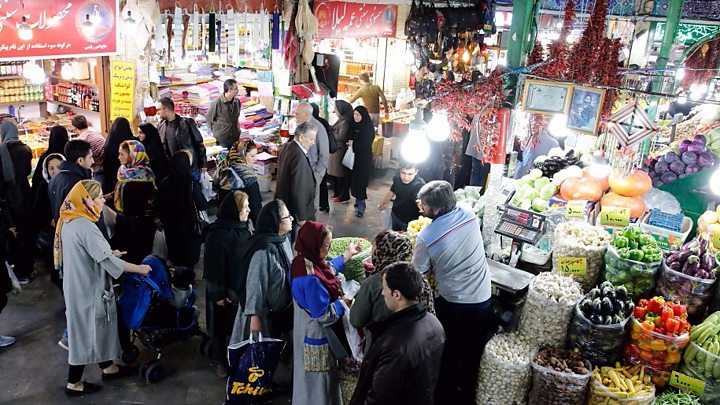 This has led to bottlenecks in imported goods and products made from raw materials from abroad, in particular baby diapers.
The sinking value of the Rial has also affected the cost of locally produced staples such as meat and eggs, the price of which has risen sharply.
Iran has reacted to the economic pressure by violating some of the obligations of the nuclear agreement. It has also accused European countries of failing to honor their promises to protect the Iranian economy from US sanctions.
What is it?
President Trump's announcement that additional sanctions on Iran will be imposed at a time comes with escalating tensions between the two countries.
On Thursday, an unmanned US drone shot down in the Gulf by Iranian forces.
The Islamic Revolutionary Guard Corps (IRGC) said the drone launch was a "clear message" to the US that the Iranian borders were "our red line".
But US military officials say the drone was in international airspace over the Strait of Hormuz at the time.
Amir Ali Hajizadeh, a high-ranking officer of the IRGC, Another military aircraft with 35 passengers had flown near the drone. "We could have shot that off, but not," he said.
The launch of the drone followed US allegations that Iran had attacked two oil tankers with mines just outside the Strait of Hormuz. [19659007] Mr. Trump said he did not want to go to war with Iran, but warned that he would be "wiped out" if a conflict broke out.
Source link