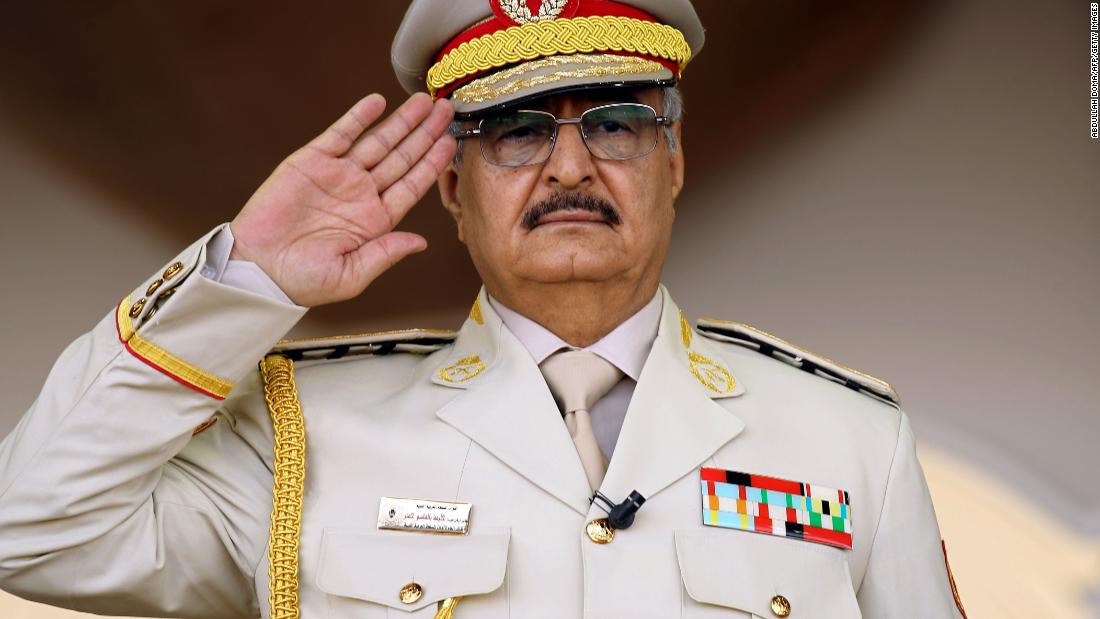 The letter comes a month after President Donald Trump praised Haftar on a phone call as the Field Marshal's forces continued their offensive against the United Nations and US-backed government in Tripoli.
"A United States citizen directly undermines United States policies in Libya, including US support for a United Nations-led mediation process and the internationally-recognized Libyan government, are designed to carry out war crimes and unnecessary suffering later in the year and cruelty have caused military operations, "it says in the letter.
The motion to the Ministry of Justice was signed by five House Democrats: Tom Malinowski of New Jersey, Gerald Connolly of Virginia, David Trone of Maryland, Ted Lieu of California and Colin Allred of New Jersey Texas ̵
1; as well as two Republicans, Joe Wilson South Carolina and Ann Wagner from Missouri.
Haftar commands the Libyan National Army, which launched an offensive, seized Tripoli in April by the United Nations-sponsored government of the National Agreement.
On Wednesday, Amnesty International revealed new evidence of war crimes in Libya, including indiscriminate attacks on civilian residential areas.
Amnesty said satellite imagery and testimonies indicated that "densely populated residential areas in the Abu Salim district of Tripoli were indiscriminately attacked with rockets during an episode of intense fighting between April 15 and 17".
Haftar's forces and a native The militia affiliated to the Government of the National Agreement blamed each other for the indiscriminate attacks in southern Tripoli. Residents polled by Amnesty told the non-governmental organization that Haftar's forces were responsible.
Libya has been plagued by violence since the overthrow and murder of longtime strongman Moammar Gaddafi in 2011 "src-mini =" // cdn.cnn.com/cnnnext/dam/assets/190502001802-0501-libya-tripoli -battle-02-small-169.jpg "src-xsmall =" // cdn.cnn.com/cnnnext/dam/assets/190502001802-0501-libya-tripoli-battle-02-medium-plus-169.jpg " src-small = "http://cdn.cnn.com/cnnnext/dam/assets/190502001802-0501-libya-tripoli-battle-02-large-169.jpg" src-medium = "// cdn.cnn. com / cnnnext / dam / assets / 190502001802-0501-libya-tripoli-battle-02-exlarge-169.jpg "src-large =" // cdn.cnn.com/cnnnext/dam/assets/190502001802-0501-libya -tripoli-battle-02-super-169.jpg "src-full16x9 =" // cdn.cnn.com/cnnnext/dam/assets/190502001802-0501-libya-tripoli-battle-02-full-169.jpg " src-mini1x1 = "// cdn.cnn.com/cnnnext/dam/assets/190502001802-0501-libya-tripoli-battle-02-small-11.jpg" data-demand-load = "not-loaded" data- eq-pts = "mini: 0, xsmall: 221, small: 308, medium: 461, large: 781" />