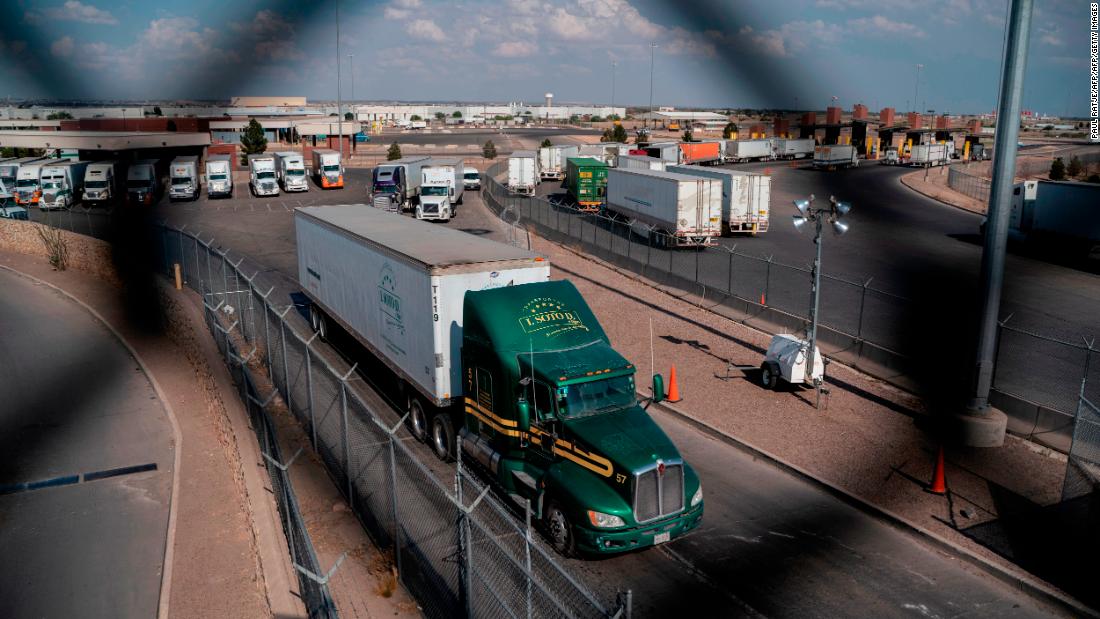 But the window closes quickly.
Trump, who was still abroad after the D-Day commemoration, has a Friday deadline to sign an enforcement order for tariffs to come into effect by Monday, and a 5% deadline for Mexico to meet its immigration demands complies with all exports to the US.
The White House spokeswoman Sarah Sanders said in a statement on late Thursday afternoon that "the US position has not changed and we are still moving ahead with tariffs."
Minutes later, Vice President Mike Pence repeated this message.
"The President announced that tariffs of 5% would be charged on Monday for all Mexican goods, which is the policy of the United States," Pence said. "The president said what he means and he means what he says."
The comments came amid reports that the two sides were approaching an agreement to avert tariffs, which increased the pressure on Mexico to comply with Trump's demands of US officials hoping to conflict with the Republican legislators and the threat To avoid economic disruption, also wanted to reach an agreement.
Trump Administration officials told CNN Thursday that negotiations were progressing. A high-ranking government official said the talks were headed in a "positive" direction, but refused to explain the progress.
Another high-ranking government official said he wanted the Mexican government to implement the proposed changes immediately.
Whether the two sides can reach an agreement before the tariffs come into force will depend entirely on Trump, who announced this week that he was "more likely" than not to impose the tariffs. And despite being beaten back by the Senate Republicans, the president was encouraged by the Senate Democrats' proposal that Trump would not follow suit this week and tweeted, "No bluff!" Emagazine.credit-suisse.com/app/art…1
007 & lang = DE Of course, traveling to and from Ireland in Ireland was regularly briefed on the state of the discussions in Washington and Englisch: emagazine.credit-suisse.com/app/art…7805 & lang = en Burdens the negotiations, the officials said.
On Thursday evening, Mexican Foreign Minister Marcelo Ebrard left the State Department after meeting with US officials for about an hour and 20 minutes. It was the second long meeting of the day after the Mexican delegation had met two hours and forty-five minutes earlier with Foreign Ministry officials.
After the meeting, Ebrand told reporters that there is still no agreement and the talks will continue Friday morning.
"We had a meeting this afternoon and tomorrow we will resume our talks," he said. "We do not have an agreement yet, but we are making progress to reach an agreement we want, and tomorrow morning we will be working in one of perhaps the last sessions to reach an agreement." 19659004] Mexico's highest diplomat was asked if he was optimistic, and he replied: "I am always an optimistic man, so I am the secretary for Mexico's foreign affairs." Currently, the procedural deadlines required for the implementation of tariffs are set.
The tight deadline for signing an agreement is getting tighter by the hour, unless Trump agrees to postpone the tariffs that one official said were "possible." And while the negotiators were increasingly optimistic that an agreement would be reached, late Thursday still seemed likely that at least the first round of pay would be the first to land.
"With the closing window we are in, it is very likely that an agreement will be reached, but not before some tariffs come into force," the official said.
The official added that Trump is "very committed" to moving forward the duties and telling his negotiators that he considers it "dead serious" with the imposition of tariffs.
Several meetings were held on Thursday between US and Mexican officials with Mexican foreign ministers holding talks in the state While Mexican government lawyers met separately with representatives of the White House legal department, Mexican Foreign Ministry spokesman Roberto Velasco Alvarez clearly states that his government is still looking for an agreement, but that there is still a gap between the two sides. 19659004] "We continue to explore options to tackle the growing number of undocumented migrants crossing Mexico," tweeted Velasco Alvarez. "The US attitude is focused on migration control measures, ours is in development, we have not reached an agreement, but continue to negotiate."
Maegan Vazquez and Natalie Gallon of CNN contributed to this report.
Source link