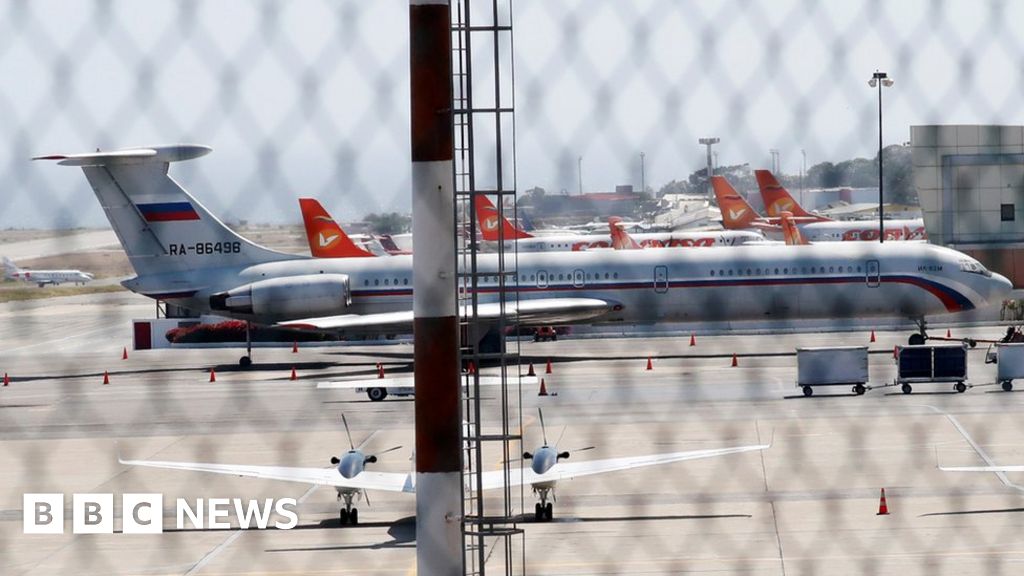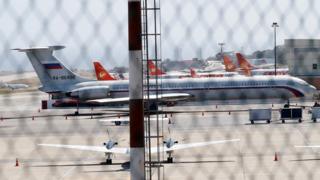 Two Russian military planes landed in Venezuela on Saturday with alleged dozens of troops and a large amount of equipment.
The planes were sent to "fulfill technical military contracts," reported Russian news agency Sputnik.
Javier Mayorca, a Venezuelan journalist, wrote on Twitter that he had unloaded about 1
00 soldiers and 35 tons of equipment from the planes.
It comes three months after the joint military exercises of the two nations.
Russia has long been an ally of Venezuela, providing billions of dollars to the South American nation and supporting the oil industry and the military. Russia has also vehemently opposed US sanctions against the government of Venezuelan President Nicolás Maduro. [May 29, 2007] Mr. Mayorca said on Twitter that a Russian Air Force aircraft Antonov-124 and a smaller jet had landed near Caracas on Saturday.
He said the Russian general Vasily Tonkoshkurov took away the troops from one of the planes.
A military aircraft with a Russian flag on the fuselage is seen on a tarmac at an airport on Sunday. Images in the social media also seemed to show Russian troops gathered at the airport.
Relations between Moscow and Venezuela have intensified in recent months as relations between the US and Venezuela worsened. In December, Russia sent two air force jets there as part of a military exercise.
Russia condemned other foreign powers for supporting Venezuelan opposition leader Juan Guaidó, who declared himself interim president in January. President Maduro accused Guaidó of attempting a coup against him with the help of "US imperialists".
The Kremlin repeated this line, accusing Mr. Guaidó of an "illegal attempt to seize power" backed by the United States and pledged to do everything necessary to support Mr. Maduro.
Background
Mr. Maduro narrowly won the presidential election in April 2013 following the death of his mentor, President Hugo Chávez. He was elected in May 2018 for a second term in an election that has been widely criticized by international observers.
Venezuela suffered an economic collapse, with a severe shortage of food and inflation of at least 800,000% last year.
Mr. Guaidó has accused President Maduro of being unfit for office and has won the support of many in the country, as well as the US and EU leaders.
The Maduro government is becoming increasingly isolated as more and more countries hold them responsible for the economic crisis, forcing more than three million people to leave Venezuela.
Meanwhile, Moscow has expanded cooperation with Caracas in recent years – the sale of weapons and lending.
Source link