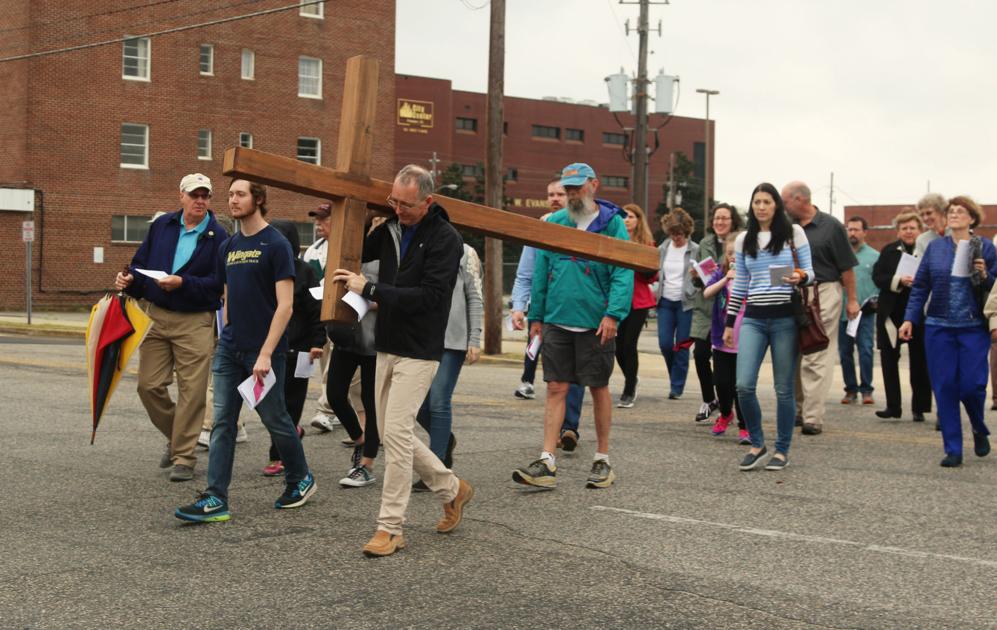 FLORENCE, SC – To reflect on the suffering of Jesus, members from eight churches met on Good Friday for a memorial walk called Via Dolorosa in downtown Florence.
The walk represents the way of misery, a road into the old city of Jerusalem and the way Jesus bore the cross before being crucified.
"We will tell Christ's journey through all his trials until his death on the Cross," Mike Henderson, Pastor of Highland (19659003) Henderson said that people often focus on Easter and the resurrection of Jesus. But without Good Friday and the death of Jesus, Easter would not be a celebration, Henderson said.
About 40 people participated in the event. They alternately wore a cross as they walked to 1
7 stops throughout the city center. At each stop, people read Bible passages, meditations and prayers.
Ree Rogers, a member of High Method Park's United Methodist, said she would nowhere be on Good Friday anywhere but on Via Dolorosa. Rogers has participated in the annual event since its inception six years ago.
"It deepens my faith," said Rogers.
Heather McCown, a member of Central United Methodist Church, participated in the walk for the first time this year. McCown said the walk helped her reflect on the events that led to Jesus' death.
Scriptures contain verses that speak about the betrayal of Jesus' disciples, Jesus' trial, Roman soldiers mocking Jesus and him, Jesus' crucifixion and his spanking burial.
Rogers and McCown said it was encouraging to see unity across denominations and backgrounds when members from several churches participated in the Via Dolorosa.
"They have other brothers and sisters in Christ," McCown said. "The community is important."
Members from several churches submitted to each station the short meditations and prayers that accompanied the readings of Scripture.
This was the fourth year the hike took place in downtown Florence. The first two years it was held at the stops around Highland Park United Methodist.