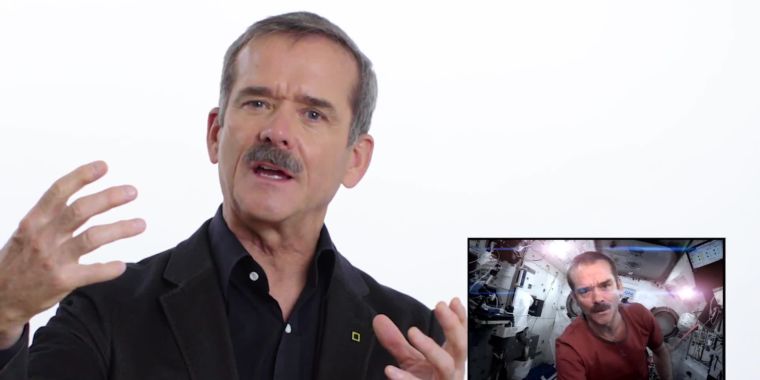 Astronaut Chris Hadfield's cover of Bowie's "Space Oddity" is thought-provoking, visually intriguing and absolutely worth seeing – but it's much more than just a great cover of a classic. It is an inherent human video because it shows the fundamental truth that we are a species of storytellers ̵
1; and that we remain so whether we are on Earth or not.
Music is one of the oldest human traditions and also one of the oldest astronauts traditions. Since the 1960s, we have been taking songs into orbit with us, which were first transmitted from the ground and then later via tape, CD and electronic formats. What we sing in the room is similar to what we sing on the floor – music fills in the gaps of a day, helps boredom, concentrates the mind, spreads anger and makes a million other things to soothe the homesick spacefarer.
Ground Control over Lionel Hutz
It is not surprising that Hadfield's cover ran into legal trouble almost immediately after its release, because copyright does not matter how popular or viral a song is. Despite the explicit permission of David Bowie and his lawyers, Hadfield's "Space Oddity" was withdrawn by YouTube after the original agreement to allow use online had expired and would-be viewers could not see it until a new one was recorded] The status of the video was finally settled by a new agreement, but it could come down again after the expiration of this agreement. The eternal difficulty stems from the fact that there are few legal precedents for how copyright works in space.
But that does not matter – not really. Lawyers can argue about the legalities of far-off songwriting, whatever they want, but that does not change our nature. We remain a species of singing storytellers, whether we're on the ground, in orbit, or on a distant alien world. We will always bring our songs and stories, no matter how far away from home we travel – copyright or not.
Source link