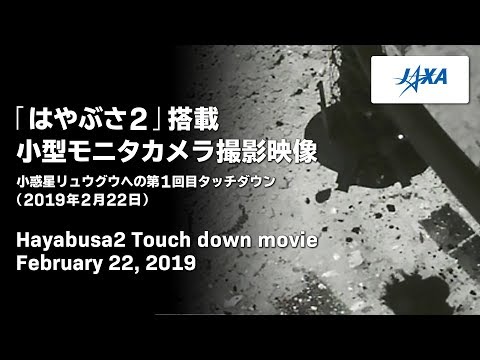 In this video released by JAXA, the Japanese Space Agency, you can see a view of the Hayabusa2 probe aboard an asteroid called Ryugu.
The explosion that you see is the probe that fires a ball of tantalum on the surface to collect a sample. Here is a photo of the landing site. From Wikipedia:
When the sampler horn attached to the bottom of Hayabusa2 touched the surface, a bullet (5 gram tantalum bullet) was fired at 300 m / s into the surface. The resulting ejecta particles were collected by a scavenger at the top of the horn, which the ejecta reach under their own impulse under microgravitational conditions.
This is the first of three samples to be collected by Hayabusa2. The third sample tries to collect material that is below the surface of the asteroid. To accomplish this, a separate gun detaches itself from the probe and shoots a copper bullet at the surface. A hole is blown up into the surface and "pure material" is exposed. Meanwhile, the probe itself will use a separate camera to observe the impact of the ball, to get out of the way to avoid deposits, and then come back in a few weeks to collect a sample from the resulting crater, which will then returned to earth together with the other two samples. Brilliant! I love it when a plan comes together!
More about …
Source link