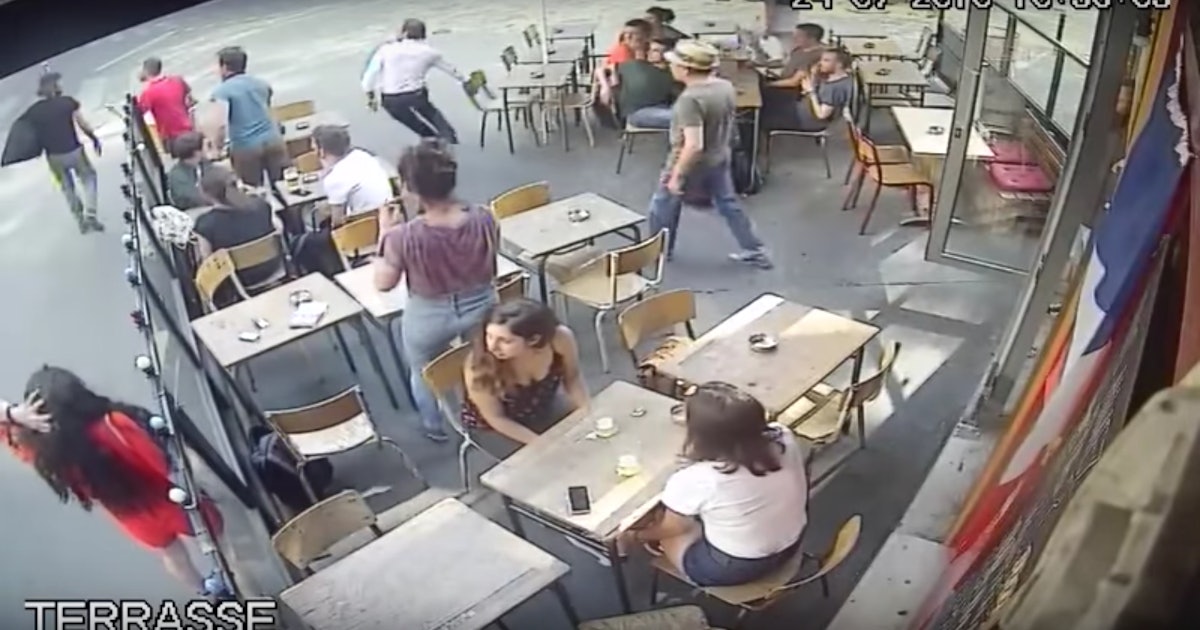 Victims of street harassment often have difficulty deciding whether to confront their harassers, who are often men, and make unwanted comments or sexual noise in public. It's a decision that carries a high level of risk due to the unpredictable nature of interacting with strangers on the street. But last week, a man took his response to a shocking level as a video shows a street killer beating a Parisian woman telling him to "shut up" when they meet on the sidewalk.
Last week, 22 years old Marie Laguerre, who is French, shared security incidents of the incident on her Facebook page. The footage shows Laguerre on a terrace where many people talk and smoke some cigarettes. She intercepts her molester on the street, seems to say something as they pass by, and the man in question takes an ashtray and throws it at her from the other side of the sitting area.
Both leave the screen for a moment, but soon their attacker storms back around the terrace, waves his hands and speaks energetically to her. Laguerre approaches him and they seem to have a verbal confrontation that quickly escalates and the guy in the video hits them. The patrons on the terrace roll back in shock and some jump up before both Laguerre and her attacker walk off the screen in different directions.
Marie Laguerre on YouTube
"Last night when I came back home Paris, I passed a man who sexually / verbally molested me," she wrote in a Facebook post with the video, according to one translation provided by ABC. "He was not the first and I can not accept being so humbled, so I answered, shut up."
Laguerre expressed her frustration with the harassment on the street. She complained about how widespread an experience is for the women she knows.
"This is an unacceptable behavior," she wrote. "It happens every day, everywhere and I do not know a single woman who does not have a similar story, I'm tired of feeling insecure on the street."
Laguerre said the man made filthy comments and noises from her As they walked in the street, she told them to tell him to shut up. "I did not even think he heard me," she told the newspaper Le Parisien after The Guardian . "But he heard me and suddenly something happened, grabbing an ashtray and throwing it at me, it missed my head by a few inches."
The Paris authorities reportedly investigate the incident, but the attacker was not identified , The Guardian reports. At present, however, an anti-street harassment law is being set up in France.
"The political response must be strong, and that's it, because for the first time in France, we will punish those responsible for street harassment," said Marlene Schiappa, the French Foreign Minister for Equality, according to several reports. Schiappa is backed by a law that allows authorities to punish people who sexually molest others on the street or on public transport. It aims to come into force this fall.
Source link