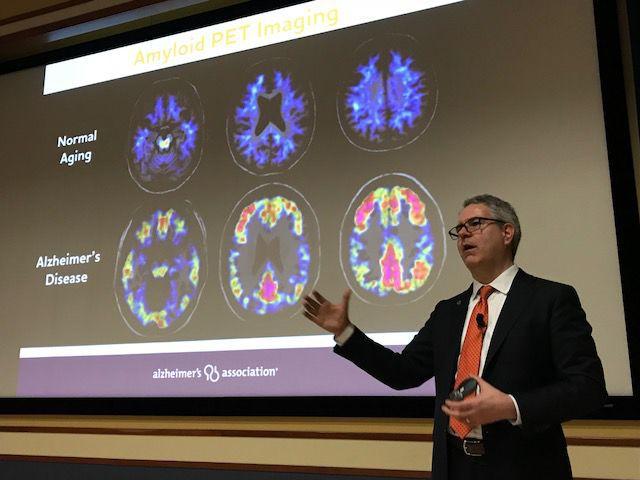 Alzheimer's disease is an epidemic in America today, taking a growing toll both financially and emotionally, but there is also new hope among scientists in search of healing.
Keith Fargo, Director of Academic Programs and Public Relations for the Alzheimer's Society Association, came from Chicago to speak in Bozeman on Thursday and Friday. He invited people to join the fight.
"Ultimately, the way to end Alzheimer's is through science," Fargo told an audience of about 50 people at Montana State University.
And what science needs are volunteers who participate in more than 250 clinical trials, he said. The Alzheimer's Association has developed the TrialMatch Online Matching Service (alz.org/TrialMatch) to help people with dementia, caregivers, and healthy volunteers get in line with studies that suit their situation. A quarter of a million people have registered.
"Alzheimer's is not normal aging," emphasized Fargo. Age is a risk factor, just as it is for heart attack or cancer.
Today, 5.7 million Americans are living with Alzheimer's and other dementias. By 2050, this is expected to increase to almost 1
4 million.
Alzheimer's is the # 6 cause of death for all Americans. From 2000 to 2015, the number of Alzheimer's patients increased by 123 percent, while deaths from other major diseases such as breast cancer, heart disease, strokes and HIV declined.
Alzheimer's is the only cause of death that can not be prevented, healed or cured from slowing down. One in three seniors will die of Alzheimer's disease or another dementia.
Although 16 million Americans care for family members for free, Alzheimer's is still very expensive. In 2018, the US will cost $ 277 billion and is expected to expand to more than $ 1 trillion
"We pay this through our taxes" for Medicare and Medicaid. "It will get worse."
Virtually everyone has a degree of cognitive decline as they grow older – the processing power of our brain increases at the age of 27. It becomes more difficult to remember names or where the car is parked.
Dementia is a set of symptoms – loss of memory, judgment, decision-making and orientation in time and place – bad enough to disrupt everyday life. Alzheimer's is the cause of most people with dementia.
The good news is that scientists have made progress in the early detection of the disease and many are struggling to find a cure.
In the bad old days, Fargo said that only one way to determine if someone had Alzheimer's was to have an autopsy after death to look for the three hallmarks – plaques and balls in the brain and shrunken brain tissue.
About 15 years ago, a scientist from the University of Pittsburgh, Bill Klunk, proposed a new way of imaging plaques in the brains of living patients. He could not win a federal grant, but the Alzheimer's Society funded his research. His new PET scan method worked, and it was "a world changer," Fargo said.
Researchers discovered that the disease usually begins 20 years before symptoms appear. That creates a big window of opportunity, Fargo said. Now scientists can try new treatments before major damage has occurred.
So far, the FDA has approved two drugs, Aricept and Namenda, to slow the worsening of symptoms. But they only work in about half the population and only for six to 12 months.
Fargo said that factors that protect the brain from Alzheimer's disease include a high level of education, regular sweat-inducing exercise, a heart-healthy diet, and social involvement. The risk factors include diabetes, smoking, drinking too much and being isolated.
"A healthy lifestyle is your first line of defense," said Fargo.
The Alzheimer's Association has collected tips on their website as "10 Ways to Love Your Brain." The Alzheimer's Association also operates a 24-hour helpline for caregivers and patients (800-272- 3900).
Lynn Mullowney, managing director of the Alzheimer's Association in Montana, said Fargo's lecture would be on the group's Facebook page.