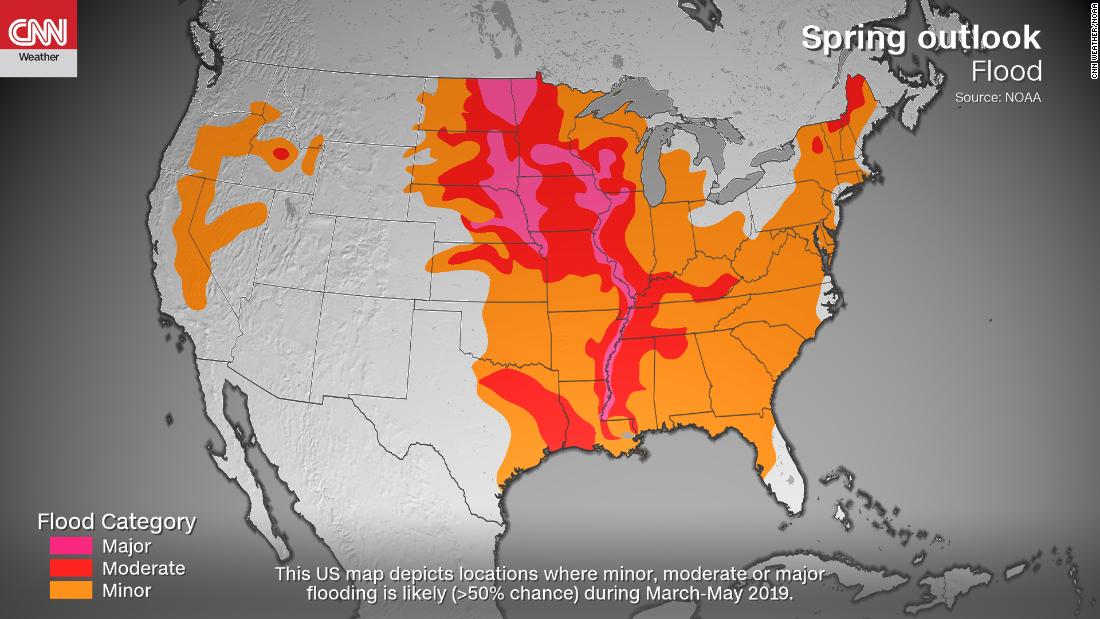 The outlook, released Thursday by the US National Oceanic and Atmospheric Administration (NOAA), estimates that nearly two thirds of the lower 48 states are exposed to an increased risk of flooding in May, with potential for severe to moderate floods over 25 states across the Great Plains, Midwest and through the Mississippi Valley.
"The floods this year could be worse than in previous years … even worse than the historic floods in 1993 and 2011," said Mary Erickson, deputy director of the National Weather Service. [19659003] This warning comes from record floods triggered by a sudden warm-up and heavy rains earlier this month caused by the "bomb cyclone". Combined with rapid snowmelt, the factors of recent weeks have flooded many places in the Great Plains and Midwest.
As this excess water flows downstream from river basins, the risk of flooding will hit other regions and could worsen, according to the NOAA's outlook.
Eastern third of the US due to above-average temperatures
In addition to the outlook for the flood, the NOAA gave its forecast for the spring weather, which also outlines the temperature and precipitation as well as the drought potential for April to June.
Precipitation during the period for most of the continental United States which aggravates concerns about flooding in many places.
The only part of the country that is likely to experience below-average precipitation is the pacific northwestern states of Washington and Oregon.
In terms of temperature prospects, the eastern third of the country will be affected with above-average temperatures, while the temperatures in the Great Plains are below average.
The outlook is not an everyday "forecast" per se, but rather a general expectation of average weather patterns.The NOAA intends that the information help the communities in time on flooding to prepare for drought and extreme temperatures.