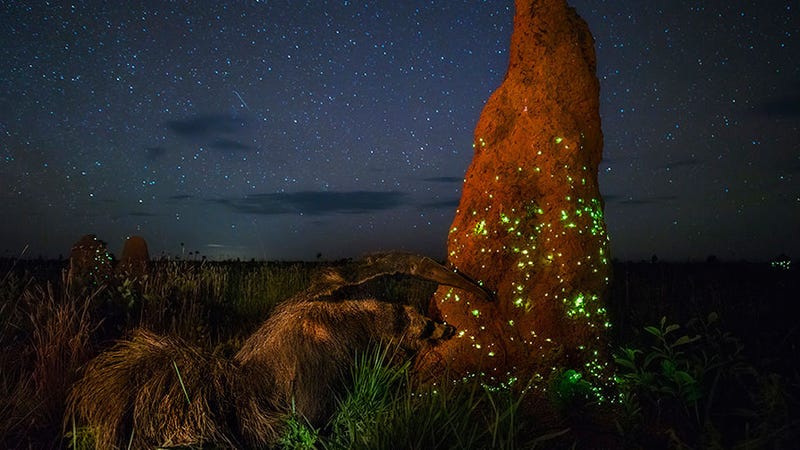 The Natural History Museum of London has a winning image of the "Photographer of the Year 201
7" competition on the grounds that the photographer has certainly used a stuffed anteater, disqualified – a blatant violation of the competition rules.
It was a photo that looked too good to be true. As we wrote at the award ceremony on October 18, 2017:
There is a lot going on in this photo by Marcio Cabral in the Brazilian Cerrado region. The beetle larvae embedded in the outer layers of termite mounds glow in a bioluminescent green, which they lure into their prey-flying termites. Meanwhile, an anteater attacks the termites and sticks its nose and nose in the hill to reach the termites living in it.
The photo titled "The Night Hunter" received the grand prize in the 2017 NHM animals in their environment category, but "after a careful and thorough study of the image", the Natural History Museum has decided to award it from last year's competition disqualify.
The reason, according to the museum, is that it is "very likely" that Cabral used a prepared specimen of an anteater in the photo. This contradicts competition rules that state that "contributions must not deceive the viewer or attempt to misrepresent the reality of nature."
The NHM opened an investigation after receiving an anonymous tip in March. Five experts were consulted, including a taxidermist, three mammal experts and an anteater specialist.
The smoking gun was a high resolution image of a stuffed anteater that is currently exhibited at the Portão do Bandeira Visitor Center. This center happens to be at one of the entrances to the Emas National Park in Brazil – the same park where the Night Raider photo was taken.
"The five scientists who worked independently, all included there are elements of animal husbandry, morphology, raised tufts of fur and neck and head patterns that are too similar for the pictures to show two different animals" , writes the NHM. "The experts expected some variation between two individuals of the same species."
The museum contacted Cabral to help with the investigation and provided unprocessed image files taken during the shoot. But for reasons Cabral could not explain, he could not provide any other photos with the alleged bona fide anteater in it.
"Mr Cabral denies strongly that the anteater in the picture is a preparation," writes the NHM, adding that "he has also given a witness claiming he had seen the living anteater." [19659004] So shameful. But also hilarious.
[Natural History Museum]
Source link