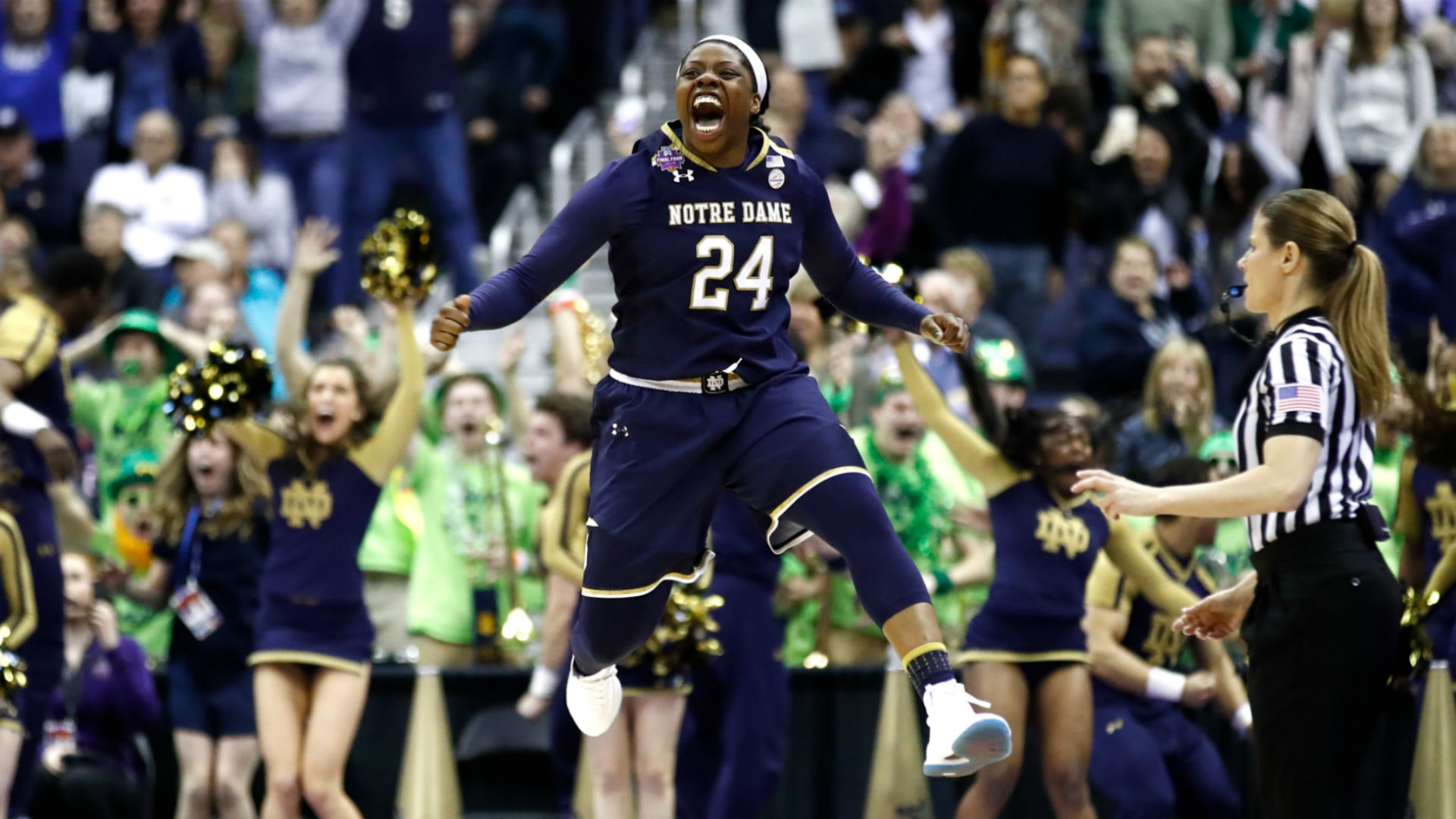 COLUMBUS, Ohio – Arique Ogunbowale of Notre Dame hit the one stroke from which UConn could not return.
It's the shot that gave the Irish a 91-89 victory and ended Connecticut's bid for an unbeaten season in a Women's Final Four classic on Friday in the Nationwide Arena.
It is the shot that continues Notre Dame's incessant season against the over-hour winner Mississippi State (37-1) in the national championship game on Sunday.
It's the shot that puts this game in the shortlist of tournament games, regardless of level, all part of a double summer-beater feature night between four No. 1
seeds, which confirms the health of women's basketball is quite alright at the top.
MORE: Roshunda Johnson shoots Mississippi state back to title game
Ogunbowale, who scored 27 points, buried a long, high-arched jumper after a break with a second in Huskies' extra time, nearly a year After the day Mississippi State ended its historic winning streak, the national semi-final in 2017 ended similarly heartbreaking. Jackie Young, who scored 32 points, joined Ogunbowale three times before taking the ball out. Ogunbowale, however, has the ball on the right wing isolated before he has pulled up. The 5-8 junior could not hide a big smile when asked about the repetition.
DOWN GOES UCONN.

Arike Ogunbowale pours it out and Norte Dame drops the unbeaten Huskies to reach the national championship game. pic.twitter.com/mjmSDY3qMG

– Sporting News March 31, 2018
"It felt good," said Ogunbowale. "I did not know it went in, but it felt good …"
So left UConn (36-1) the tournament for the second time in a row. So did Notre Dame (34-3) advance in another duel between Huskies coach Geno Auriemma and Irish coach Muffet McGraw, who have 64 years experience as coaches and different points of view.
Two-digit fluctuations. Great shots. Great games. So we came to the one shot.
"Well, at such a moment, you really can not say much," Auriemma said. "Having a game like that and then falling short, we knew we were playing a great team and we knew there were a lot of great players who could decide the game."
Ogunbowale made the game that decided the game, and McGraw could not help it.
MARCH MADNESS: Women's Tournament Schedule, Results
"The way they played defense, we had no choice but to run down the time," McGraw said. "I want to thank all Catholics from coast to coast for the prayers on Good Friday."
The rest of this instant classic was not that important.
It did not matter that Ogunbowale hit the shotgun with a jumper and added two free throws with 20.1 seconds in the fourth quarter.
UConn came back from it.
Napheesa Collier hit a 3-pointer. Kia Nurse stole an inbounds pass and raced from coast to coast for a layup to tie the score at 79. The Huskies even had a chance to win after further Irish sales, but Gabby Williams' bank shot bounced off the edge.
YOU MUST KIDDING.

UConn was 79-74 with 21.3 seconds to go. * What * pic.twitter.com/tMjcYt18BE

– Sporting News (@sportingnews) March 31, 2018
"Coach has really prepared us for this moment," said Young. "They did not push us too high when we got a head start, we could get through."
"Unfortunately, we were often in that position where we came down with big profit margins," said Ogunbowale. "I think it really helps with this team, we had to come back from big deficits earlier, we did not go beyond ourselves."
It did not matter that Ogunbowale had missed two free-throws in extra time, which could have put the side in the lead in the final minute of extra time.
Crystal Dangerfield hit a game-binding threesome before Notre Dame called Timeout. In no case would the huskies come back and lose twice in the last minute, right?
"We kept coming back and came back," Auriemma said. "We did not have time anymore."
Ogunbowale's dagger still gave Katie Lou Samuelson enough time to get a buzzer after a full court pass. It did not like it.
UConn is out. Notre Dame is in, and the Irish now have a chance to win the program's second national championship after their first victory over the Huskies since 2013 – a span that includes two meetings for the national title and another in the last four. In the 48th edition between two power plants, the Irish made the final blow.
"That was our lucky charm," McGraw said. "We can not beat them in the final, but this one comes from behind – well, to do that, to waste it, and come back with this team, that's really special, it has to be the best."
There is no turning back.