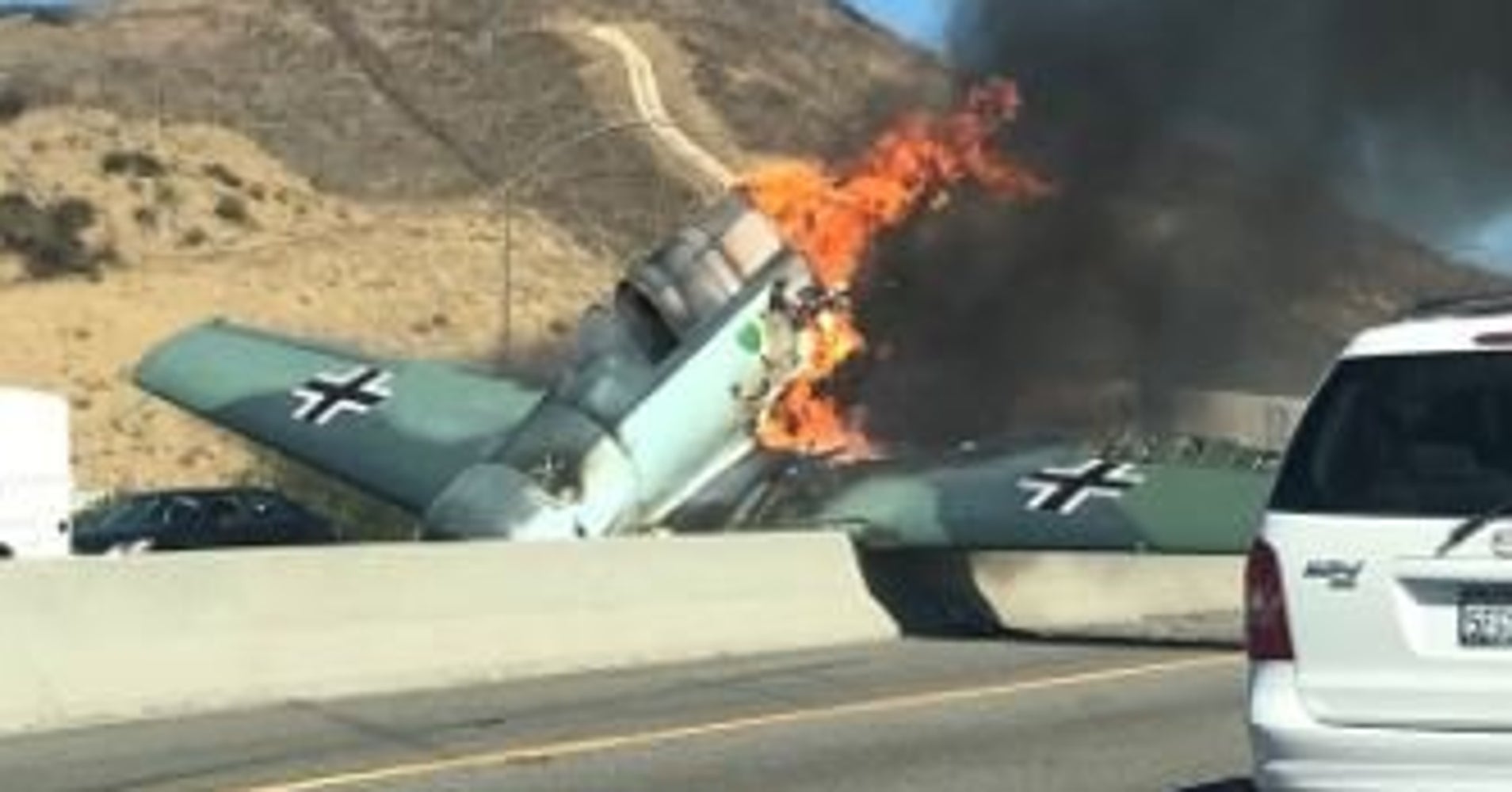 A vintage car with some marks of the German Luftwaffe crashed Tuesday on the 101 Freeway in Agoura Hills, California.
Despite the black and white cross of the Luftwaffe, the aircraft was not a WWII aircraft from Germany, but a classic North American AT-6 / SNJ trainer. The aircraft belonged to the Condor Squadron, a nonprofit organization that flies World War II aircraft over parades, celebrations, monuments, and mock fights.
Condor Squadron President Chris Rushing told the Los Angeles Times that the plane "suffered a catastrophic failure"
"Thank God he's fine and no one was hurt," Rushing said.
Social media observers have joked about the possible metaphor, a possible wormhole, or perhaps just a flaw in the matrix:
201

8 has a new metaphor – we are no longer the "dumpster fire"
we are now in the "Nazi fighter-crashed-on-a-highway fire" stage.

– Captain Abraham (@ ThomasHeaney6) October 23, 2018
A German WWII plane has just crashed on the 101 freeway in Agoura Hills. Fortunately nobody was hurt, but remember to buy war bonds and do your part to put an end to our famine once and for all. pic.twitter.com/y4OwMgdDDz

– Colin D. Garland (@ Yeats1941) October 23, 2018
The place where National Socialist Germany exploits a mistake in the Matrix to the Luftwaffe on a mission to send time into this dimension and attack the US? It could be a movie. It could! https://t.co/voABg1jQRU

– Ryan Banfill (@ ryban1001) October 23, 2018
uh.
is that ..
a german ww2 plane
. .. fire on the 101? https://t.co/6dorIQve3Q

– D̒̕ᵈăᵃn̕ᶰ Ť̾̾̓͐͒͠ᵗe͗̑̋͡ᵉn̅ᶰtᵗl̓͘ᶫe̓̒̚ᵉrʳ (@Viss) October 23, 2018
Looks like a T-6 Texan in the Luftwaffe of the Nazis.

What is a cumbersome symbolism in this, the worst written timeline. https://t.co/jSNFLhV3Vk

– Andrew Thaler (but maybe a werewolf or something) (@DrAndrewThaler) October 23, 2018
I decided to believe that the WWII plane was at the 101 crashed in Augora Hills was a time traveler who chose this timeline to stop a Nazi dictator.

– Gennefer Ghouls (@Gennefer) October 23, 2018
I hope that the Nazi plane on the 101 breaks down a metaphor for what is going to happen in the midterm elections.

– Adam Newman (@Adam_Newman) October 23, 2018