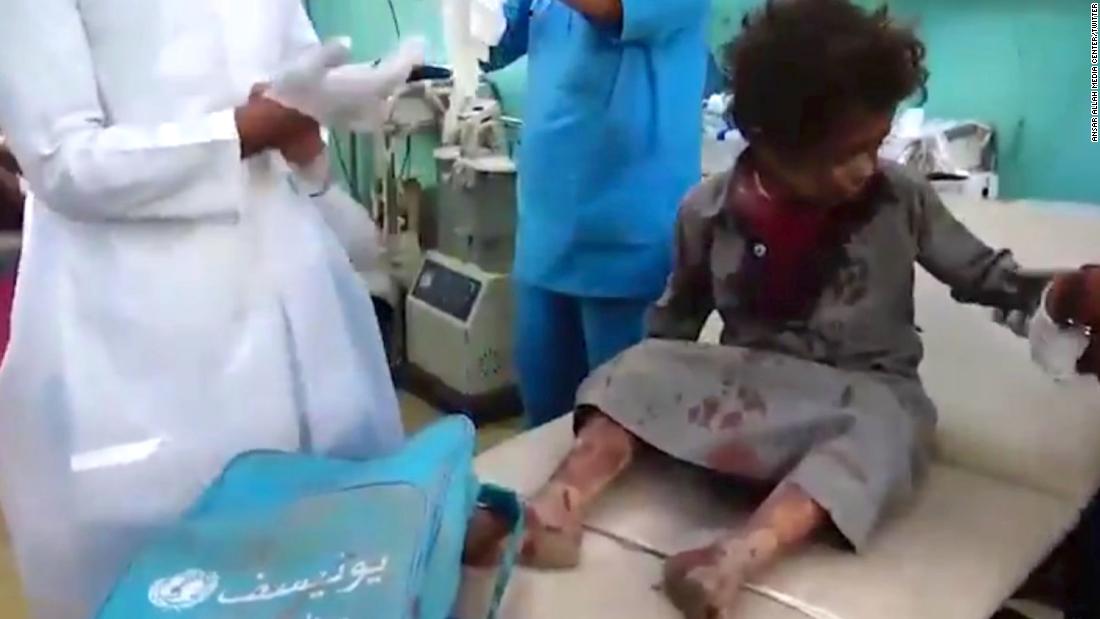 The bus was beaten as it drove on the market in the rebel-controlled province of Saada, according to Houthi-led Al-Masirah.
At least 43 people died and 63 were injured in the strike. According to the Houthi Ministry of Health
the International Committee for the Red Cross (ICRC) said that a hospital supporting it in Saada has 29 bodies of "mainly Children under the age of 15 and 40 injured, including 30 children.
"(The hospital) is very busy, they are wounded since the morning and received dead, and it's non-stop," said ICRC Communications Director and spokeswoman Mirella Hodeib CNN.
Houthi Media sent graphics material to show the bodies of children. Another video showed a boy carrying a UNICEF rucksack that was taken to a hospital. His face was bloody as the medical staff tried to treat his injuries.
Witnesses with whom CNN spoke said the attack was heard from neighboring districts.
The Saudi Arabia-led coalition called the airstrike a "legitimate military operation" and retaliation for a Houthi ballistic missile attacking the Jizan province of the kingdom on Wednesday night, Saudi Arabia official news agency said.
"Today's goal in the province of Saada was a legal military action against elements who targeted and killed civilians in Jizan City yesterday, killing and injuring civilians," the Saudi Press Agency quoted the official coalition spokesman. Turki al-Maliki as a proverb.
One person was killed in this attack, Saudi media reported.
Maliki said that those responsible for firing ballistic missiles and targeting civilians "get what they deserve."
The United Nations has repeatedly criticized the actions of the coalition.
"Endangering children is appalling and deplorable It is unacceptable to get them to pay such a price," said Hodeib.
In response to Thursday's air strike, UNICEF Regional Director for the Middle East and North Africa, Geert Cappelaere, said, "Does the world really need more innocent child lives to end the cruel war on children in Yemen?"
Source link